Direction: Rumi Jafry
Production: One Up Entertainment
Cast: Akshaye Khanna, Shriya Saran, Satish Kaushik, Mugdha Godse, Annu Kapoor, Aditya Lakhia, Murli Sharma
Music: Anu Malik
Rating: * ½
Plot: Bharat (Akshaye Khanna), plays a Common Man from Bhopal who works in a bank as a cashier and leads a simple life with his wife Nisha (Shriya Saran) and father (Satish Kaushik). Just before elections, politician Manku Tripathi's (Murli Sharma) men ask Bharat and family to let them occupy a room in their house for election purposes. However, Bharat, at Nisha's insistence, refuses. In this way, Bharat indirectly invites great trouble in his life.
Review: The promos and the promotional title song of Gali Gali Chor Hai gave a clear indication that the film deals with fighting against corruption. This became more evident when a special screening of the movie was organized for anti-corruption crusader Anna Hazare.
However, what is presented is a tiresome saga of the central character's struggle against the corrupt system which, after a point of time, is difficult to believe or sit through, leave alone creating an impact!
Coming straight to the point, the film is an amalgamation of unconvincing scenes and situations. This starts with a silly misunderstanding between Akshaye and Shriya, straight out of those boring daily soaps. To solve this, a song is forcefully added. Then, the troubles for our protagonist begin where an age old table fan and few corrupt individuals turn his life topsy-turvy.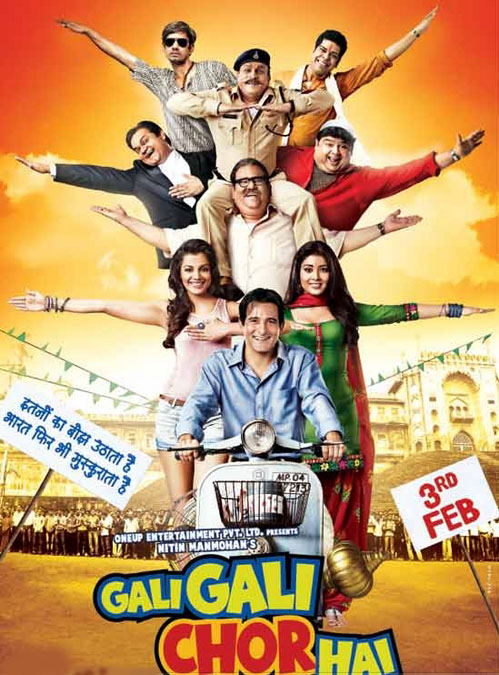 But due to the dumbness of our common man you finally lose patience at the end of the first half when he gets to know that the table fan has become a big villain of his life. Later we realize the writers have given more importance to the fan than the two actresses.
They also make sure you stop caring for the characters courtesy some more unconvincing events in the second half where the misunderstanding factor also keeps returning! To make matters worse, a raunchy Veena Malik item number 'Chhanno' is thrown in. But the way our hero is further submerged in trouble takes the cake (pun intended)! Although some heroism and encouragement is shown in the final scene, it hardly leaves an impact. You really wonder how a bunch of producers agreed to finance a film with such a script!
One shouldn't blame Rumi Jafry's direction when he is as a writer, along with Mumukshu Mudgal, has failed.  It's only plus point is the creation of some interesting characters and few funny moments here and there.
Composer Anu Malik's return produces a well written title track. The rest of the songs aren't much to talk about. Dialogues, cinematography and background score aren't bad.
Akshaye Khanna's performance is the biggest plus point. The actor excels as a victim of corruption. But one hopes he chooses better films. Shriya Saran isn't bad as his wife but even she needs a better platform in Bollywood to showcase her talent. Annu Kapoor gives a stellar act. After 7 Khoon Maaf, he once again proves he is one of the best character actors of Hindi cinema.
Aditya Lakhia and Murli Sharma play the bad men well. Mugdha Godse has hardly anything to do while Satish Kaushik is likable.
Overall, Gali Gali Chor Hai makes a mockery of the concept of Common Man versus corruption. It is impossible for the movie to survive at the box-office.