It was evident from the teaser and trailers of Om Raut's Adipurush that the character of Lankesh, which is nothing but Raavan, uses a huge bat to fly instead of the Pushpak Vimaan. However, he still has a runway made in his den in Lanka to land the bat. Now why would a bat require a runway to land?
This, unfortunately, is the only unintentionally humorous moment in Adipurush. The rest of the film is uninteresting and, worse, devoid of emotions.
Adipurush only focuses on the story of Janaki (Kriti Sanon) being kidnapped by Lankesh (Saif Ali Khan) and how the former's husband Lord Raghav (Prabhas) frees her from the demon's clutches and ends his tyrannical rule on earth. The story before the kidnapping is shown in brief in the opening credits. Fair enough.
However, almost the same hurried pace is seen in the first half as well. The events unfold at an unwanted fast pace, which ensures that even important incidents appear half-baked. For example, the episode of Sugreev and Vaali is shown as an unimportant subplot. The all-important turn in the tale of Vibheeshan walking out of Lanka and joining Raghav's camp against his elder brother appears as casual as warrior sharpening his sword in the background.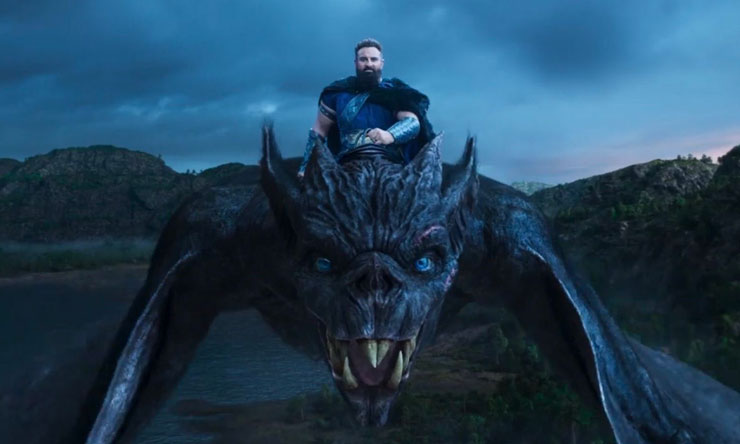 These half-baked incidents and characters ensure that you feel no emotional impact. In fact, you hardly feel for Janaki and Raghav's separation too, although this part from Ramayan is supposed to be the most moving. Similarly, the makers haven't been able to portray Bajrang's (Hanuman) deep devotion for Raghav and Janaki. You hardly feel that, even if you try.
Manoj Muntashir Shukla's dialogues too become a reason for you to not take the film seriously. There are occasions where the lines are praiseworthy, but most of the times, they fail to provide any applaud-worthy moments.
It is okay to take inspiration from Hollywood superhero and sci-fi films to present a modern take on Ramayan. Instead, what Om Raut has done here is that he has gone way too overboard in making the movie a Hollywood-like visual spectacle. Hence, the over-use of CGI and VFX end up irritating your eyes after a point of time, more so if you see the film in 3D (like I did).
The idea of shooting the whole film in front of a green screen somehow worked in Raut's last film Tanhaji: The Unsung Warrior. But in Adipurush, the idea falls flat as it becomes impossible for you to take the surroundings seriously, even minutes after the film commences.
(Article continued after the trailer)
The biggest drawback in Adipurush is the hugely important character of villain, Lankesh. It is impossible to see Raavan in him because of two reasons. He is made to carry out weird antiques. He is presented in a strange manner in terms of costumes and hairdo. Saif Ali Khan's performance, especially his way of walking and trying extra-hard to appear menacing, also falls flat. You never feel any fright when he comes on screen.
Perhaps, the only plus point in Adipurush is Kriti Sanon's performance. She is the only one who appears determined. The same can't even be said about Prabhas, who is too underwhelming in the titular role.
If only, the makers of Adipurush had put in more unintentionally funny moments, this 3-hour long journey would have been somewhat easy to ride.
Also read: When SRK did a panchayat 33 years ago