Director: Maneesh Sharma
Producers: Yash Raj Films
Writers: Habib Faisal and Maneesh Sharma
Cast: Shah Rukh Khan, Waluscha D'Souza, Sayani Gupta
Music: Vishal-Shekhar
Genre: Thriller
Runtime/ Duration: 143 minutes
Rating: * * *
Review By: Keyur Seta
Shah Rukh Khan has acquired the title of one of the biggest superstars through his numerous larger-than-life characters. But it is only due to his acts in films like Swades and Chak De! India that he has earned respect as an artist. Now, we can add Fan in the rare list of his epic performances.
But does the film live up to the expectations? Well, the answer falls in between yes and no, with the pendulum swinging more towards the former due to SRK. It's an out-of-the-box concept narrated in a thrilling manner only to be let down by the climax and few other issues.
As per the title, Fan is the story of a die-hard fan. Gaurav Chhabra (Shah Rukh Khan) is the most crazily obsessed fan of superstar Aryan Khanna (SRK). Miraculously, Gaurav is also a lookalike of Aryan.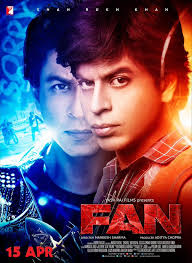 Gaurav's only wish in life is to meet his 'God' once for five minutes. However, that meeting turns out to be a nightmare for him. It affects Gaurav in an unimaginable way.
What works for Fan is the concept and the manner in which the story is established by the writer and director. The twists born out of the consequences take the film to an enjoyably thrilling mode, especially during some stunt and chase sequences. There are quite a few instances that stun you.
These points, however, would have been counted for much without Shah Rukh Khan's super brilliant act. The way he has juggled two starkly different characters with such ease will also impress his haters. The rest of the cast – Waluscha D'Souza, Sayani Gupta and actors playing Gaurav's parents – is also decent.
But Fan comes with a baggage of negative points, which are as follows:-
– There is inconsistency over people's reactions to Gaurav being Aryan's lookalike.
– Some loopholes are too big and silly to ignore.
– The film provides an important message in the end. However, the final climax defeats its very purpose. This is the major drawback here.
– Absence of the famous 'Jabra fan' song is also a dampener.
Overall: Fan is an engaging thriller that surely could have been better. The hype and SRK's act will help the film garner impressive collections at the box- office.