Although filmmaker Pan Nalin's Gujarati movie Chhello Show (English title: Last Film Show) released in India this week, it has been making a lot of noise internationally for the last two years. It is also India's official entry for the Best Foreign Language film at the prestigious Oscars.
Whether it is a worthy choice for the Oscars is debatable. But, after going through the experience, it is a no brainer that the film deserves applause for its ode to the medium of cinema.
Chhello Show tells an interesting tale of a boy named Samay (Bhavin Rabari), who stays with his father (Dipen Raval), a tea-seller, mother (Richa Meena) and little sister in a remote village in Saurashtra. His father abhors movies but he once takes the entire family to watch a film at a nearby town simply because the movie in question is a devotional one. The father says that this is Samay's first and the last film at a cinema hall [hence, the title].
But the little boy is mesmerized by the medium of cinema. He decides that this can never be his last show. So he steals money from his father, bunks school and secretly visits the theatre in that town, called Galaxy, to catch a film. His father gets to know of his 'crime' and he beats him up.
However, Samay strikes a friendship with the projectionist Fazal (Bhavesh Shrimali), who allows him watch films for free as long as he lets him eat his delicious lunch prepared by his mother. While Samay is loving being in company of cinema, his road ahead with the medium is full of thorns.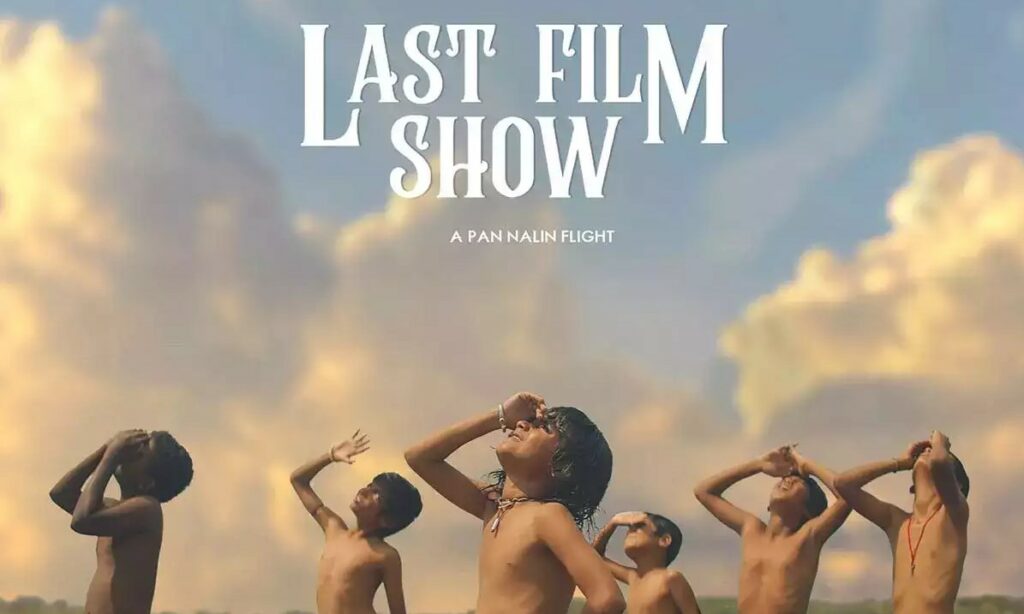 Pan Nalin's writing and presentation makes you a keen observer of Samay's life and his world instantly. If you happen to be a movie lover, you will deeply root for the boy to keep his affair with cinema continuing, despite the odds. But what works most for the film is the establishment of the protagonist's innocence.
This ensures that you will support the kid even when he carries out immoral activities because they aren't born out of any greed for money; it's only for his love and fascination for cinema. The film has various moments that make you smile and at the same time feel emotional as you can sense that the overall film itself is a result of someone's fascination for the art.
The technical aspects, in term of the natural camerawork and minimal background score, play a quiet yet important role in creating the overall effect.
Bhavin Rabari is nothing short of a main 'hero' who carries Chhello Show on his shoulders. Despite his age, he lives and breathes a character that doesn't cease to adore you. Rahul Koli, as the protagonist's friend, is equally good. It is super tragic that he passed away just before the release of the film.
Bhavesh Shrimali easily brings out the endearing nature of Fazal. Dipen Raval and Richa Meena are perfect as Samay's parents. Thankfully, the former isn't limited to being a strict father.
Although Chhello Show is semi-autobiographical account of the filmmaker himself, an important moment during the ending part is difficult to digest considering the age of the protagonist. The film also deserved to be crisper on a few occasions.
Also read: When SRK did a Panchayat 33 years ago
Also, it is impossible to not think about the classic Cinema Paradiso (1988) while watching Chhello Show. Once again, despite it being the real story of Pan Nalin, the basic idea and the main characters are similar to the 1988 movie. A line acknowledging the inspiration could have been added.
Having said that, Chhello Show has plenty going for itself that's enough to move the movie lover in you.
Rating: 4 out of 5
Director: Pan Nalin
Producers: Pan Nalin, Dheer Momaya, Siddharth Roy Kapur and Marc Duale
Writer: Pan Nalin
Cast: Bhavin Rabari, Bhavesh Shrimali, Dipen Raval, Richa Meena