Director: Girish Mohite
Producer: Devisha Films
Writers: Anirudha Potdar and Sanjay Pawar
Cast: Subodh Bhave, Mohan Agashe, Makarand Anaspure, Jitendra Joshi, Meeta Sawarkar, Kuldeep Pawar, Hrishikesh Joshi, Tejashree Khele
Music: Ajay-Atul  
Rating: * * * ½
(For more reviews, news and information on Marathi cinema, click HERE) (To join us on Facebook, click HERE)
Plot: City-dweller Abhay (Subodh Bhave) returns to his native place Adnide to trace his roots and claim rights over his ancestral property. He is in for a shock when village head (Mohan Agashe), who has occupied the house, refuses to vacate the place saying he owns it and has been running it since decades. Abhay is unable to prove his right over the property as Adnide has no official existence in either Maharashtra or Karnataka.
Call it a miracle or a mere co-incidence, Abhay lays his hands on something which makes Adnide a burning national issue which also becomes a reason for concern for the Prime Minister of India (Manoj Joshi).
Review: A number of small villages on Maharashtra-Karnataka border are ignored by the government to such an extent that they have neither a place in India's map, nor any written record of their existence. Girish Mohite's Bharatiya successfully exposes this truth apart from exploring the meaning of being Bharatiya i.e Indian. Although the film lacks 100% conviction, the makers Devisha Films bring another feel good and impactful village tale after Deool.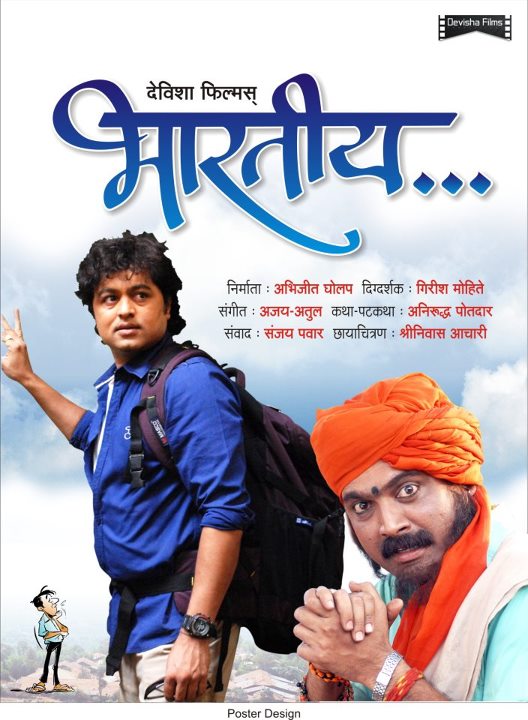 The writers (Aniruddha Potdar and Sanjay Pawar) succeed in the task which is the most vital in such movies – of getting the audience involved in the village proceedings. This was possible due to the inclusion of some interesting characters and their humorous conversation. The story nicely moves forward after Subodh Bhave's arrival and his frustrating experience with the government officials. An unexpected turn during interval point sums up a well made first half. A flashback scene during this half turns out to be very appealing due to the color scheme used in it.
The turn at the interval point ensures some highly dramatic moments in the second half. The questionable aspect all this while is how Bhave's character carries out such a humongous task without blinking an eye-lid and thinking about its dire consequences. Due to this, even his stand in the end is surprising. However, since the climax is powerful and eye-opening, there aren't any major turn offs. The film should also be lauded for showing the mirror to the current government and its functioning.
Ajay-Atul's music is effective. The song 'Aamhi Lai Solid Aahot' stands out. Shrinivas Achari's cinematography and Santosh Futane's art direction stay true to the subject – simple yet appealing. The background score and editing add to the plus points.
With this performance, Subodh Bhave once again proves he is one of the most talented Marathi actors currently. He gives a mature performance without going overboard in scenes which required him to portray anger and frustration. Mohan Agashe shows his class in an unusually funny role. Meeta Sawarkar is perfect as an educated village girl. Kuldeep Pawar fits perfectly as Agashe's rival who loves using English words regularly.
Jitendra Joshi is lovable as a dumb village youngster. He comic timing is terrific. Hrishikesh Joshi offers flawless support. Makarand Anaspure as a wandering gypsy gives a mature act, although he speaks a bit too fast on few occasions. Tejashree Khele doesn't get much scope but she does well as a simple village belle. Manoj Joshi excels in a cameo.
Overall, Bharatiya succeeds in throwing light on a neglected issue. Although the content has potential of scoring at the box-office, it will have a tough time after Bollywood's hugely awaited Ek Tha Tiger releases.