When I went to see Neeraj Pandey's directorial debut A Wednesday in 2008 in Dadar's Chitra Theatre, I was expecting to see a thriller about a terrorist's plot of carrying out multiple blasts in Mumbai being foiled by a bunch of good guys. I expected it to be a regular formula thriller, but it turned out to be the experience of a lifetime personally.
The film, which starred Naseeruddin Shah, Anupam Kher, Jimmy Shergill, Aamir Bashir and Chetan Pandit starrer, completes 10 years on September 5, 2018.
During the interval point, I was convinced that I am in for some thrill. I was crazy for action or dramatic thrillers back then and used to watch every film in that genre including Acid Factory [2009] and Woodstock Villa [2008] (don't judge me).
But when Shah's character revealed his true intentions and identity as the 'Stupid Common Man,' I was not only thrilled but also pleasantly shocked and blown away. His long monologue with hard-hitting and moving dialogues mesmerized me like anything (I still watch that scene regularly).
There must be very few occasions when I must have rooted this much for any fictional character to survive. I heaved a sigh of relief when Kher's character lets him go. There is no denying that apart from the brilliance of the film, the subject struck an emotional chord for the Indian or Mumbaikar in me.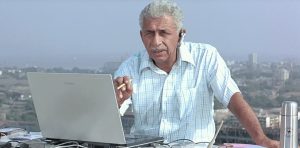 I also respect A Wednesday for subtly rubbishing religious and other such identities by not revealing the name of Shah's character. "Insaan naam ke saath mazhab jod leta hai," is what is said.
As a person, I have always been comfortable living a simple life and enjoying the simplest of joys without caring or needing any sort of luxuries. There has also been this desire to bring a change in the society, which I hardly ever express. But I didn't know how to describe myself for following such an ideology. Well, A Wednesday helped me out with that. The Common Man it was!
Also read: Bhavesh Joshi Superhero: A film that forced me to go down memory lane.
Of course, it was the great R K Laxman that brought out the concept through his iconic cartoons. I was introduced to it much before I saw A Wednesday. But somehow it took this movie for me to latch onto the title. Maybe the power of the audio-visual medium turned out to be higher than cartoons.
Less than a year later, when I started this blog, its name came extremely easy to me.
But apart from giving me and my blog an identity, A Wednesday also made me realize the power of an ordinary man (read: humans). Normally one would expect a good looking, strong 'hero' with muscles to carry out the task of killing terrorists. But here was a man in his old age managing that even after his plan going haywire in between.
Not that I have been able to realize any such power till now. Maybe someday I might.
By: Keyur Seta