Direction: Ram Gopal Varma
Production: Ram Gopal Varma Productions, Viacom 18 Motion Pictures, Uberoi Line Productions
Cast: Amitabh Bachchcan, Sanjay Dutt, Rana Daggubati, Deepak Tijori, Abhimanyu Shekhar Singh, Laxmi Manchu
Music: Dharam Sandeep, Bappi Lahiri, Vikram Nagi
Release Date: May 18, 2012
Star Value: Apart from the biggest superstar of Bollywood Amitabh Bachchan, Department also has Sanjay Dutt. These two names ensure that the star value of the movie is very high. Good performers like Abhimanyu Shekhar Singh and Rana Daggubati also fill in the ranks.
Hype: The hype for Department is low. This is highly surprising considering the big names in the star cast and a well-known director. This can be due to the fact that the promo, which although created a buzz, was unable to create much excitement. Even Nathalia Kaur's item number didn't manage to turn too many heads. Due to this, one can say the makers have failed to promote their film properly.
Music: Due to the nature of the film and the type of genre in which Varma believes, there is hardly any scope for music. The remake of Sharabi's hit number 'Thodi Si Jo Pee Li Hai' is somewhat known.
Prediction: Department will get an average to descent response, which is much below expectations. The makers would be hoping that it manages to super impress initially because that's the only way they can recover their money. If it doesn't, it will have a very tough time at the box-office.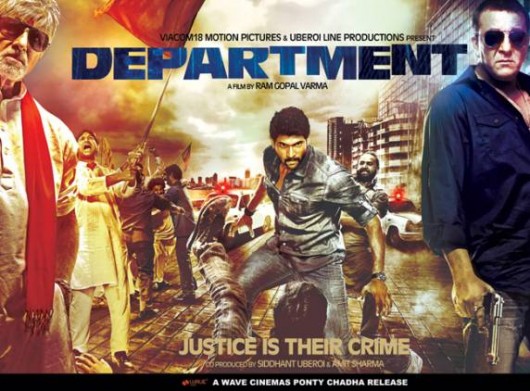 Direction: Nitin Chandrakant Desai
Production: Neha Nitin Desai, Meena Chandrakant Desai
Writers: Nitin Chandrakant Desai, Mandar Joshi
Cast: Sonalee Kulkarni, Philip Scott Wallace, Manoj Kolhatkar, Avinash Narkar, Murli Sharma, Makrand Deshpande, Reena Aggarwal, Manoj Joshi
Music: Kaushal S. Inamdar
Rating: * * * ½
Plot: During a hunting expedition in 1819, a British officer Captain James Smith (Jian Bostoch) accidently discovers the Buddhist caves of Ajanta which date back to the Satavahana dynasty in the 200th B. C. Smith is astonished by the beauty of the pictures inside the caves. Later on in 1844, the Britishers send Captain Robert Gill (Philip Scott Wallace), who is a top quality painter, to recreate the paintings on canvas to enlighten the world about the great Ajanta caves.
As soon as Gill arrives at Lenapur for his task, he falls in love with the cave paintings and the surroundings. In recreating the paintings, Gill gets much needed help from Paro (Sonalee Kulkarni), a girl from the tribal community. As fate would have it, the couple falls in love. But will the society accept such a relationship?
Review: Love is a feeling that is devoid of language barriers. It really doesn't matter if you can't understand a word of what a person speaks if your heart has struck a chord with him or her. Nitin Chandrakant Desai's Ajintha explores this pure form of love while offering a visually stunning cinematic experience. Naturally, due to such genre, the film caters more to the art-house audience.
The subject of Ajanta caves provides plenty of scope for Desai to showcase his artistic skills, which he does brilliantly in creating sets similar to real caves. The images and the architecture inside and outside of it put you in awe of the art. Add to this, Rajeev Jain's breathtaking and artistic cinematography (especially while capturing waterfalls and landscapes) and you get nothing less than a visual treat, which has the capacity to impress the audience world over.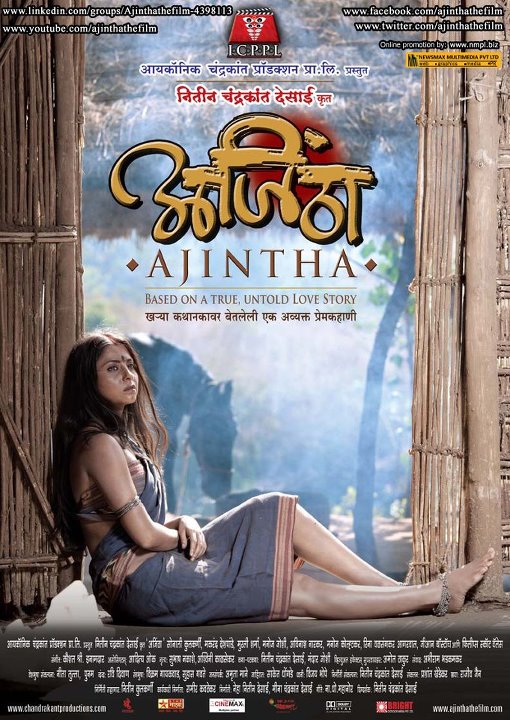 As mentioned earlier, there is a huge language and cultural barrier between Paro and Gill. Therefore, it can be very difficult for the writers to show love blossoming between them as they can't use proper dialogues. This difficult task is managed well as the love story between the couple is made believable with the use of intelligent situations and circumstances. Due to this, the audience instantly starts feeling for the characters. In between, explanation of the philosophy related to the cave paintings and Indian mythology adds further colors.
The second half deals more with the circumstances of the love story of the couple. It is this part that will test the patience of a section of the audience due to the inclusion of a number of songs. Even the duration of some scenes could have been shortened. But if you are an admirer of such genre, it shouldn't bother you much, especially after witnessing the moving climax that extends till the ending credits.
It necessary to mention that a good part of the movie is in English. Although there are sub-titles provided during English dialogues, it is doubtful whether the Indian audience is used to reading them while watching a movie.
Kaushal S. Inamdar's compositions and N D Mahanor's lyrics add more soul to the proceedings. Neeta Lulla also deserves praise for creating costumes that look believable to be of that era.
Sonalee Kulkarni moulds herself brilliantly in the role of Paro and expresses every emotion with ease. She impresses with her dancing skills too. This will surely be a talked about performance from her career even after decades. British actor Philip Scott Wallace deserves equal praise for a mature act. The chemistry between both the actors is appealing.
Manoj Kolhatkar gives a fine act (Jalal-Ud-Din) and so does Avinash Narkar (Pandit). Murli Sharma and Makarand Deshpande play the bad guys with ease. Reena Aggarwal provides good support. Manoj Joshi and Jian Bostoch excel in cameos.
Overall, Ajintha is a picturesque saga defining the true meaning of love. The film has a chance of succeeding at the box-office.
Direction: Vikram Bhatt
Production: Reliance Entetrainment, BVG Films, Dar Motion Pictures
Cast: Karisma Kapoor, Rajniesh Duggal, Jimmy Shergill, Divya Dutta, Arya Babbar
Writers: Amin Hajee (Story and Screenplay), Girish Dhamija (Dialogues)
Music: Himesh Reshammiya
Release Date: May 11, 2012
Star Value: Karisma Kapoor is one of the most admired actresses ever in Bollywood. So, if she is making a comeback after a long time, one can say that the star value for that film (Dangerous Ishq) is high. But it is left to be seen whether the audience will be excited enough to go to the theatres to see her.
Hype: The hype for Dangerous Ishq has been decent. It's surely not as high as one would expect from Karisma's comeback film. The issue of past-life regression and the prolonged clip from the movie has managed to make it somewhat popular.
Music: Himesh Reshammiya's music hasn't created any hype. Not a single track from the movie is known. This is due to the fact that the makers haven't used the music to popularize the film.
Prediction: Dangerous Ishq doesn't stand a good chance at the box-office. It will, at the most, get an average or above-average opening. It relies heavily in super-impressing in the initial days. It also faces a tough opposition in the form of Yash Raj Films' Ishaqzaade.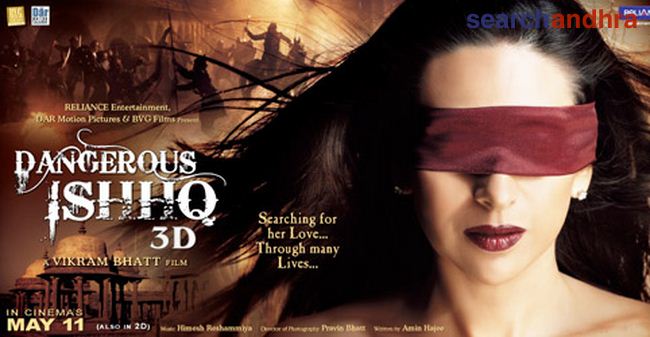 Direction: Habib Faisal
Production: Aditya Chopra for Yash Raj Films
Cast: Arjun Kapoor, Parineeti Chopra
Writers: Habib Faisal (Story, Screenplay and Dialogues), Aditya Chopra (Story)
Music: Amit Trivedi
Release Date: May 11, 2012
Star Value: Parineeti Chopra is just one film old but despite that, she is quite well-known due to her confident performance in her debut flick Ladies VS Ricky Bahl. Although Arjun Kapoor is making his debut in Ishaqzaade, the lad has already managed to make heads turn. Hence, we can say Ishaqzaade is quite high on star value despite the inexperienced lead pair.
Hype: The makers have succeeded in generating hype around the film especially amongst the youth. It is Arjun and Parineeti's bitter-sweet and a kind of wild chemistry that has been the impressive factor from the promos.
Music: Amit Trivedi's compositions have struck the right chord with the audience. 'Pareshaan' has become the most popular track from the album while the title song and 'Aafaton Ke Parinde' are well received too.
Prediction: Ishaqzaade will surely get a good opening weekend at the box-office. The business in the days that follow will largely depend on the initial response. All said and done Ishaqzaade looks like a safe bet for Yash Raj Films.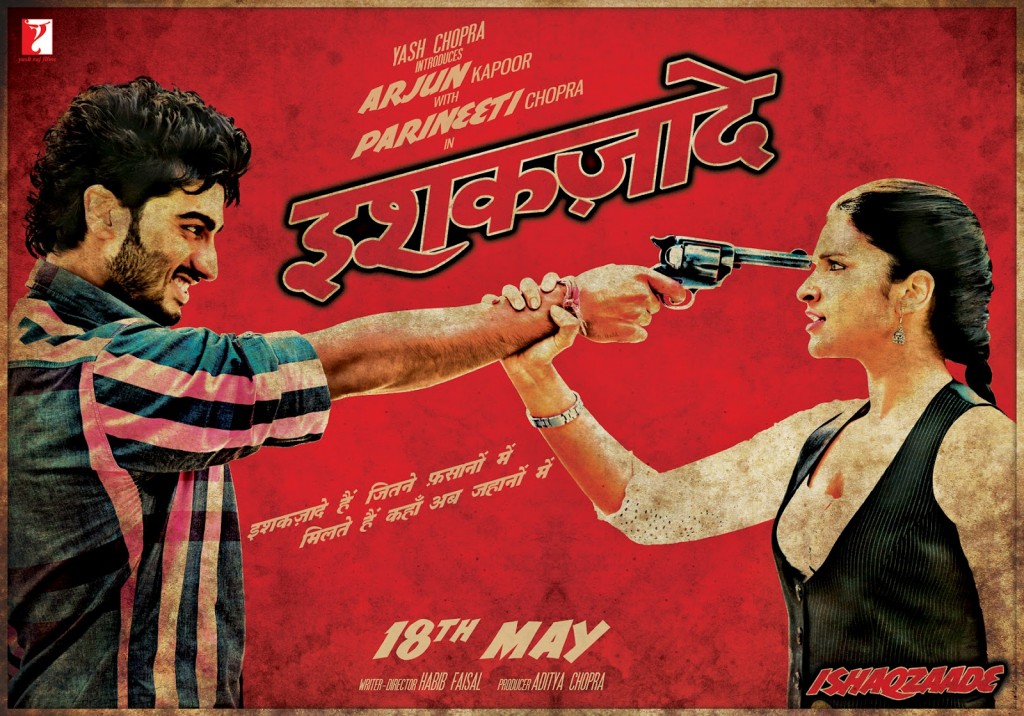 Direction: Mahesh Vaman Manjrekar
Production: Great Maratha Entertainment
Writer: Girish Joshi (Screenplay and Dialogues), Usha Datar (Story)
Cast: Sachin Khedekar, Priya Bapat, Ketaki Mategaonkar
Music: Rahul Ranade, Ajit-Sameer
Rating: * * * ½
(For more reviews, news and information on Marathi cinema, click HERE) (To join us on Facebook, click HERE)
Plot: Based on a story by Usha Datar, Kaksparsh, set in the pre-independence era in Konkan, Maharashtra, revolves around Haridada (Sachin Khedekar), who is the head of the Damle family. Haridada gets his younger brother Mahadev (Abhijit Kelkar) married to the adolescent Durga, who is later named Uma (Ketaki Mategaonkar). However, the happiness of the Damle family is short-lived as Mahadev passes away due to illness on the night his marriage was to be solemnized.
Being a widow, Uma now has to live life full of atrocities. But Haridada comes to her rescue. His affection and care towards Uma raises a lot of questions.
(For more reviews and information on Marathi Cinema, click here. To join us on Facebook, click here)
Review: It is believed that love is the greatest feeling on earth. And what goes hand-in-hand with love is loyalty. It is this loyalty that compels you to sacrifice everything, including your life, for the one you love. Director Mahesh Vaman Manjrekar presents this fact in his latest offering Kaksparsh, a film that leaves an impact long time after you leave the cinema hall. But one has to mention that the film caters more to the lovers of serious, hard-hitting cinema.
The makers succeed in the difficult task of taking the viewer back to the 1930-50s era right at the onset. For this, the art director's sincere efforts need to be appreciated for creating the bygone era with realism. Ajit Reddy's artistic camerawork too deserves equal applause. Rahul Ranade and Ajit-Sameer's compositions and the background score (which are apt for the subject) add further realism. But these things wouldn't have created much impact without a creatively written script (Girish Joshi).
(Review continued after picture.)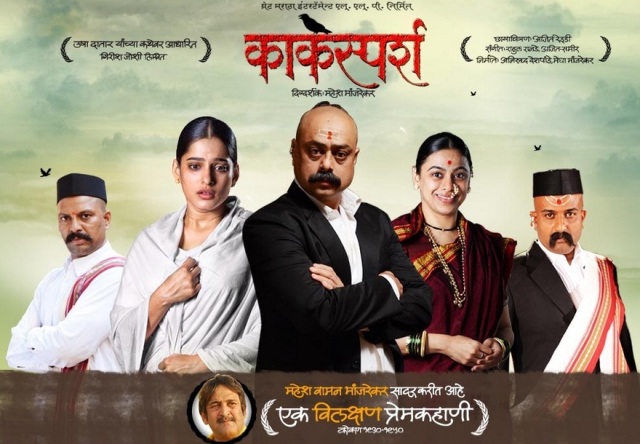 Slowly but surely you get involved in the tale and subsequently start relating with the characters; their joys and sorrows. The writer does well in not extending the death and post-death scenes which would have also increased the length of the film. Extinguishing a lighted diva (lamp) as a symbolism for death was impressive. The writer and the director also leave a mark in the all important issue of widow's rights and Sachin Khedekar's stand on it.
The idea of narrating the tale in the form of a flashback in the second half works very well for it makes the audience curious in knowing the final outcome. The pace does drop in the latter part of the second half. This is where the patience of the entertainment-hungry audience will be tested.
But the moving and thought-provoking climax, which follows, sums up a well-made product. This was largely possible because of Khedekar's terrific act in the finale that touches you. It is the performance of this veteran star that is the backbone of Kaksparsh as he gets into the skin of Haridada and pours plenty of life in it. This one is easily one of his best acts.
After her impressive act in Shala, Ketaki Mategaonkar continues her good work by portraying a difficult character. Priya Bapat, who plays the elder Uma, too gives a terrific performance. The scenes where she depicts pain and tragedy prove her talent. Savita Malpekar easily essays a character which would have challenged any talented actor. Vaibhav Mangle excels in a negative role and so does Sanjay Khapare as Haridada's friend. Fine acts are also provided by Medha Manjrekar and Abhijit Kelkar.
Overall, Kaksparsh is a moving saga which will surely interest the thinking audience. Due to the positive opening it has received, it will turn out to be a winner at the box-office.
Direction: Kunal Deshmukh
Production: Mahesh Bhatt and Mukesh Bhatt for Vishesh Films, Fox Star Studios
Cast: Emraan Hashmi, Randeep Hooda, Esha Gupta
Writers: Shagufta Rafique (Story and Screenplay), Sanjay Masoom (Dialogues)
Music: Pritam
Release Date: May 4, 2012
Star Value: Over the years, Emraan Hashmi has become one of the bankable actors of Bollywood. A movie starring him does manage to create curiosity and interest among cinegoers. Due to his presence, we can say Jannat 2 has a decent star value. Esha Gupta, who makes her debut, has already managed to make heads turn, mostly due to her resemblance to Angelina Jolie.
Hype: There has been a decent hype for Jannat 2. However, the excitement isn't as much as one would expect from a Bhatt-Emraan combo. The promos of the movie have received just an average response.
Music: 'Tu Hi Mera' song has managed to popularize the movie. The rest of the tracks haven't succeeded in creating a buzz.
Prediction: Jannat 2 won't open to a very good response. It relies heavily on the initial reports. Even if it receives an above average response, it will help the producers recover their money as it's not made on a high budget.