The definition of 'Blockbuster' has changed over the years. Earlier, blockbuster was a movie which succeeded in satisfying a large majority of its viewers. But in recent times, definition of superhit or blockbuster is reduced to a movie which makes huge profits in its initial weekend regardless whether it managed to impress a good part of the audience.
In other words, when a film gets a tremendous opening, it only means that a large section of audience went to see the film. Nothing more than this. It doesn't necessarily mean that majority of audience had a good time.
Shah Rukh Khan's Ra.One is the latest example of such a blockbuster. The movie has garnered a mammoth Rs 22 crore and Rs 25 crore on its opening and second day respectively. It has defeated Salman Khan's Bodyguard (which earned Rs 21 crore on opening day) and has thus achieved the record of highest opening ever in Bollywood! Hence, one shouldn't be surprised if the collections continue to be high till the end of the weekend.
But the big question is – Did it succeed in making most of the viewers happy? Judging by the numerous comments I have heard and read on social media (Facebook and Twitter), the answer is surely in the negative. The same happened with Salman Khan's Bodyguard and various other films in recent times. So, what is the use of a blockbuster which only satisfies its producers monetarily?
Well, our big producers aren't concerned about this. They seem to be following this formula – get a big star on board, spend huge amount in production, throw in mind-blowing visuals or clap-worthy scenes, create a super-impressive promo, promote your movie as if your life depends on it, book almost every theatre or multiplex and enjoy the returns in the first weekend.
Audiences' satisfaction doesn't matter as long as they can flaunt their opening collections! This is because they are sure the same audience will get excited and queue up to watch the next big movie of their favorite star!
By doing this, we will surely get huge money-minters but there will be dearth of movies which touch your heart, movies which are remembered for decades. Being creators of cinema, producers and directors should ask themselves whether making money is their only motto or are they also concerned about winning audience's hearts. Their answer will determine the future of Bollywood movies.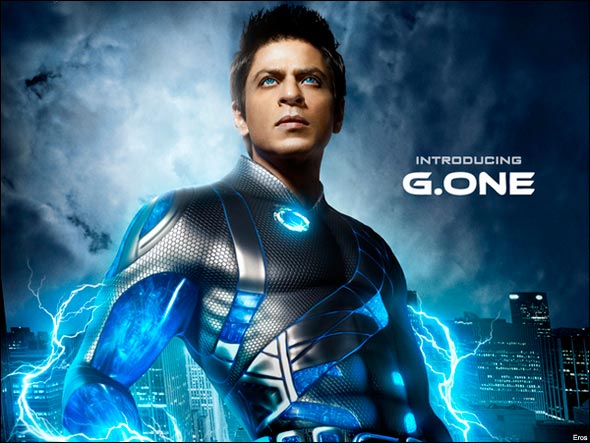 Direction: Anubhav Sinha
Production: Red Chillies Entertainment, Eros International
Cast: Shah Rukh Khan, Arjun Rampal, Kareena Kapoor, Shahana Goswami, Rajnikanth
Music: Vishal-Shekhar
Rating: * ½
Plot: A video game programmer Shekhar Subramanian (Shah Rukh Khan) loves his wife Sonia (Kareena Kapoor) but struggles to keep his son Prateek (Armaan Verma) happy. One day, Prateek says he wants a video game where the villain turns victorious. Eager to make his son happy, Shekhar creates such a game called Ra.One. However, this proves to be too costly for Shekhar as Ra.One (Arjun Rampal) comes out of the game and creates havoc in the human world. The only person who can defeat him is the good guy of the video game G.One (Shah Rukh Khan).
G.One (life)-less!
No matter how bigger amount you shell out to make a film, it is of no use if you don't have a proper story or script. The same is the case with Anubhav Sinha's Ra.One, which is born out of a meaningless concept and on top of that, treated in a shoddy manner. At the end of the day, it's turns out to be an exhibition of special effects which go way overboard!
The movie starts with a bang but the bang turns out to be a dream sequence. Light moments follow in the next 30-40 minutes consisting cheap humour which hardly makes you giggle. Scenes like keys falling into a girl's bosom, butt-shaking, ass words, a homosexual getting turned on and regular mention of condoms are difficult to digest in a movie which is being promoted as a family entertainer.
Thankfully, proceedings gain momentum once Ra.One comes out of the video game. However, there is no reason or explanation given as to how he entered the real world. And more importantly, how can a video game character derive such superpowers? And despite these powers, he is shown helpless without a vehicle when he chases Kareena and Armaan!
A very strange thing that deserves mention is Kareena and Armaan's response to a shattering tragedy (can't reveal much) in the first half. They react as if it's a regular thing for them!
Anyways, then comes the dhamakedar interval point which raises your expectations. Unfortunately, the pace goes downhill from here on with more uninteresting humour and songs that only act as obstacles. Although Rajnikanth's entry garners plenty of seetis, the scene is sloppily forced and serves no purpose whatsoever! Similar can be said for Sanjay Dutt and Priyanka Chopra's guest appearances.
Finally, the big battle between Ra.One and G.One begins which starts with a terrific train sequence. But even that goes overboard after it destroys the heritage building of Chatrapati Shivaji Terminus. (As a true Mumbaikar, I was offended!)
The climax, which should be the most defining moment, is far from convincing and fails to provide the punch which was expected. It's just laughable to see how easily the villain is defeated! And by the way, what kind of digital Azad Maidan was it? Sadly, the flaws are not limited to these!
One of the few plus points is Nicola Pecorini's cinematography. But the high definition special effects, which are never seen before in Indian cinema, take the cake in the end.
Composer duo Vishal-Shekhar has done a fair job although there isn't much scope for music. Songs 'Raftare' and 'Chammak Challo' stand out.
Sinha's direction is strictly okay. We are often reminded of his last outing Cash (2007) which was a disaster.
Shah Rukh Khan plays two characters – one of an unimpressive father and the other of a superhero. In the first one, he tries too hard to be funny and convincing. As a superhero, he is just likable but one certainly expects a much better show by the King Khan. Excuse me, but his growing age is also clearly visible.
The movie is named after Arjun Rampal's character but the length of his role is surprisingly short. As it is, he fails to impress with his expressionless acts although he says he was told to do so.
Kareena Kapoor, although not at her best, does a fair job and looks ravishing. The kid Armaan Verma is confident and adorable. But why such long hair for him, which makes him appear like a girl all the time?
Shahana Goswami shows her talent in a miniature role. One expects her to do play much meatier characters. Good performers like Dalip Tahil, Suresh Menon and Satish Shah are simply wasted. Tom Wu is a surprise package which works well.
Overall, Ra.One fails primarily due to the missing of the basic factor – meaningful story – and abuse of special effects. But thanks to SRK's crazy promotion, it will garner huge collections at the box-office. There have been few films in recent years which have tasted enormous success at the box-office but failed to impress a large majority of viewers. Add Ra.One's name in the list.