The tussle between Kangana Ranaut and Shiv Sena doesn't seem to end anytime soon. It all started when the actress, in an attempt to criticize the law and order situation under Chief Minister Uddhav Thackeray, compared Mumbai with Pakistan occupied Kashmir (PoK). Later on, she also compared Mumbai with Pakistan in a Tweet.
Kangana's comment generated fury from people from Mumbai and outside. Ever since, there has been a constant war of words with both sides in no mood to back out.
The Kagnana v/s Shiv Sena issue makes us recall the last time a film star was at loggerheads with the party. Ten years ago Shah Rukh Khan offended the party when he said he would have been glad to have Pakistani players in his IPL (Indian Premier League) team Kolkata Knight Riders. Players from the neighbouring country were banned from the IPL because of the tensions between India and Pakistan.
Shiv Sena, including its founder Bal Thackeray, slammed Khan left, right and centre for his 'pro-Pak' remark and vowed not to let his upcoming film My Name Is Khan (2010) release in Maharashtra.
There are quite a few similarities and dissimilarities between Shiv Sena's battle with SRK and Kangana.
Apart from the fact that their targets are film stars on both occasions, both tussles were ignited by comments related to Pakistan. On both occasions, their target never backed out of its stand.
Despite the fury expressed by Shiv Sena, which included damaging public property, Khan plainly refused to either retract his statements or agree to the party's demand of offering an apology.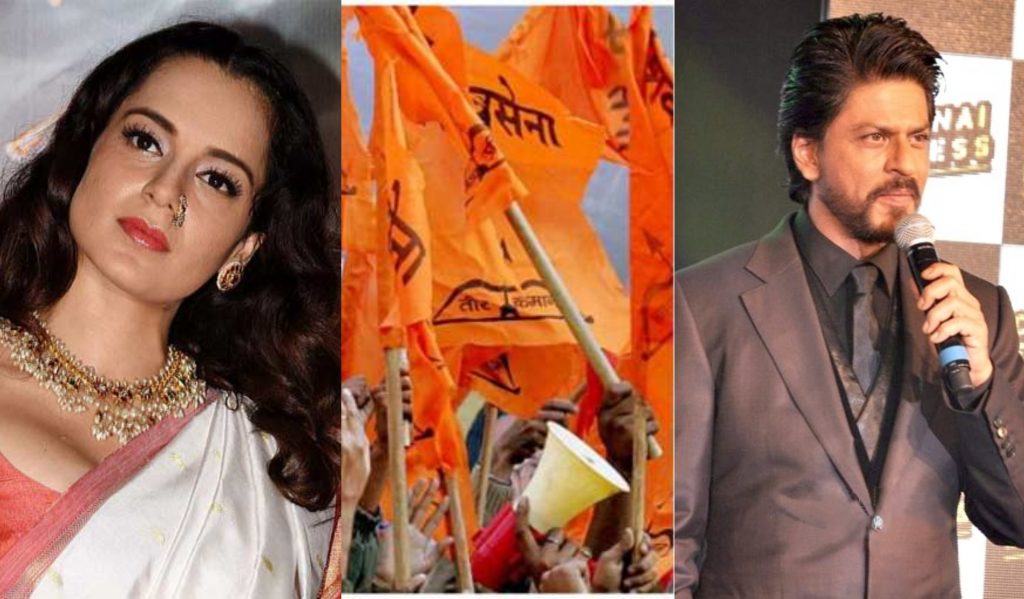 The same is the case with Kangana who, leave alone saying sorry, shared a video where she addressed the CM as 'tu' and dared him to stop her from entering Mumbai and wrote few scathing posts against the party on Facebook.
Khan never attacked or slammed Shiv Sena or its leaders but remained politely firm. Ultimately My Name Is Khan was released in theatres. Apart from few instances of violence before and on the day of its release, the film had a smooth run at the box office.
But despite Shiv Sena not succeeding in banning My Name Is Khan, their image as rulers of Maharashtra didn't get damaged. Of course, SRK's fans and other section of the general population were jubilant by the end result, Shiv Sena's support base hardly had any effect.
The party's war against Kangana is far from over. But things are different right now. The party is clearly staring at defeat because of its own actions. When Sanjay Raut referred to Kangana as 'Haramkhor,' the comment didn't go down well even with those who had slammed Kangana's 'PoK' comment.
They then gave a major booster to Kangana on a platter by demolishing a part of her office which they claimed was illegal. Even if it is illegal, it is a mammoth co-incidence that they took action just at the time when the actress is having a war with them. The timing also raises question since it happened just hours before Kangana landed in Mumbai.
Also read: Anti-nepotism' brigade has created a TOXIC atmosphere online
Back in 2010, the My Name Is Khan issue was soon forgotten and Shiv Sena performed well in the next state elections in 2014 [along with its coalition with the Bharatiya Janata Party (BJP)] and returned to power.
Things don't look the same this time around though. Leave alone their chances of winning the next state election, right now it is a big question if the party's government will even survive five years. Right now, it has not even been a year since they came to power by forming coalition with Congress and Nationalist Congress Party (NCP).
In 2014 state elections, Shiv Sena had the advantage of being the coalition partners of the BJP, whose star leader Narendr Modi was recently sworn in as India's Prime Minister. But now the same party is looking to grab every opportunity to pounce on Shiv Sena's government.
Additional reading:
Expecting MIRACLES from CBI in Sushant case isn't smart