After getting released on bail yesterday, Salman Khan got a heroic welcome in his hometown Mumbai. Such was the delight in the hearts of his fans that a large amount of crackers were busted in celebration. A person alien to the entire Black Buck case would feel that the actor must have done some noble deed to have received such a reception.
Little would he or she know that Salman is actually found guilty of killing endangered species and has only received bail; he is not acquitted of the crime. On top of that, the judge who convicted him is transferred (co-incidence?).
Welcoming a convict by busting crackers is surely shocking. But after a while, it didn't come as a surprise for me. The reason for this is simple. The same person has been let off of a much serious crime of killing one and injuring four in the 2002 hit-and-run case.
Anybody who has followed this case would know how he was let off. The silliest giveaway was Salman's driver taking the blame on him all of a sudden 13 years after the crime.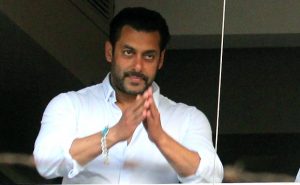 But the manner in which the prime witness, constable Ravindra Patil, was physically and mentally tortured to death not only points to foul play but also gets you disturbed. (Read Patil's full story HERE and HERE.)
This point alone is enough to question the mindsets of those who can turn a blind eye to the above incidents and welcome the actor as if he carried out a noble deed for the nation. Unfortunately, a good section of the media is behaving the same way. It is shuddering to think that they are the custodians of the fourth pillar of democracy.
This is the extent to which the disease of hero worship has spread in India.
The usual excuse we get from these blind fans is that Salman has been doing a lot of charity. Now, which law states that a person should be excused from charges of such magnanimous nature if he or she indulges in charity work? For the uninitiated, his charitable trust Being Human was started in 2007, much after he got involved in such crimes.
Watch the fireworks and how Salman asks his robotic fans to sleep:
It is obvious that such bhakts won't question as to how Salman received bail in just 48 hours when Dr Kafeel Khan is in prison since six months and that too for saving the lives of children during the horrific episode of lack of oxygen in Gorakhpur's hospital.
I don't think many of them might even be aware of the incident (read about it HERE, if you are one of them). In fact, there are lakhs of undertrial prisoners who are not even convicted but are still loitering in jails since months and years simply because their name is not Salman Khan.
And yet, the blind fans keep giving the laughable argument that Salman is targeted for being a celebrity when it's the other way round. If he wasn't a celebrity, he would have been one of the lakhs of undertrials.
The hero worship disease is not just limited to the fans of actors. It goes for politicians as well. So much so that their ghastly crimes are forgotten just because they possess the quality of uttering scripted lines with style and punches. If they say something you love listening to in their usual heroic way, you are clean bowled!
To think of it, this shows how the job of actors and politicians is the same. Both act in front of the audience and mouth scripted lines. The only difference is that actors admit to acting, although not while being off screen.
But the masses won't realize this since this disease makes you disconnected with logic. One gets so madly attracted to some quality or style of a celebrity that thinking and reasoning is out of question. It makes you fight or even end relations with your near and dear ones just because they don't agree with your blind worship.
All this for a person who is not even aware about your existence in the first place.
By: Keyur Seta