Direction: Priyadarshan
Production: Ratan Jain for United 7 Entertainment Ltd
Cast: Ajay Devgn, Anil Kapoor, Boman Irani, Zyed Khan, Sameera Reddy, Kangana Ranaut, Mohanlal
Writers: Robin Bhatt, Aditya Dhar
Music: Sajid-Wajid
Rating: * ½
Plot: Aakash Rana (Ajay Devgn) loses his money and assets for living and working illegally in the UK. As he is deported back to India, he is also estranged from his wife Nikita (Kangana Ranaut). Four years later he returns to the country to avenge the damage done to his life. To do this, he plots a bomb in the London-Glasgow train with the help of ex-colleagues Abid Khan (Zyed Khan) and Megha (Sameera Reddy).
Aakash demands a huge ransom from the UK government in return for the lives of the people in the train. He is pitted against the anti-terror officer Arjun Khanna (Anil Kapoor) and the railway traffic chief (Boman Irani).
Review: Judging by the action thrillers released in last few years, we can say Bollywood has taken giant steps when it comes to stunts, sleek editing and special effects. Examples – Cash (2007), Blue (2009), Prince (2010), Ra.One (2011), Players (2012), Agent Vinod (2012), etc. However, despite these films being superlative in the action department, they all suffered due to some weak writing.
The promos of Priyadarshan's Tezz suggested that the film wouldn't fall in the above mentioned list. But promos can be misleading and that's exactly the case with Tezz. Therefore, it easily falls in the list for the same reason – poor script, which is also unintentionally hilarious during several scenes and dialogues.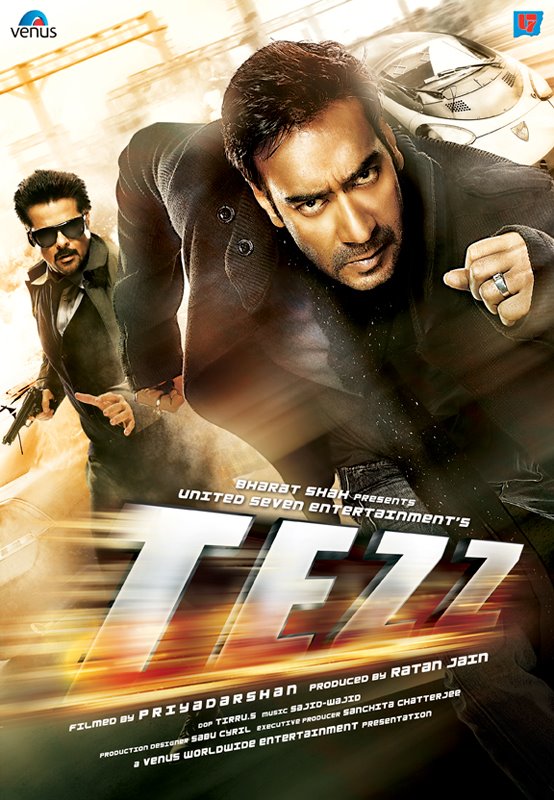 The biggest problem with Tezz lies in its basic plot which defies logic. Why would the audience sympathize with someone who has been living illegally in a country and when punished for it, plots a bomb in a train to take revenge? Due to this, there is almost no emotional connect with the audience right at the onset.
What follows is a series of negotiation and action scenes (till the end of the movie) that hardly create an impact. In fact, after a point of time you barely feel the thrill by the repetitive chase sequences. All these instances will also remind you of various Hollywood movies; mostly Speed (1994) and The Taking Of Pelham 123 (2009). Although the first half turns out to be unsatisfying, you still feel like giving the movie a second chance after intermission.
However, the same negotiation and action is continued in the pre-interval portions as well. And as the story unfolds further in this part, a good number of scenes and dialogues inadvertently tickle your funny bone. Try to fathom this line where a character tries to explain the reason behind naming her son Aakash – Aakash mein ek kaash hai ki kaash tum yahan hote.
Later on, as the climax nears, you realize the film is stretched although the overall length is under two hours. It is difficult to believe how an experienced producer like Ratan Jain agreed to finance such a script!
There is just no scope for music (Sajid-Wajid). All songs are just thrown in unnecessarily but none more than Mallika Sherawat's item number 'Laila'.
Areas like action (R P Yadav) and cinematography (Thiru S. Appun) are the biggest plus points. Sandeep Chowta's background score, however, forcefully tries to create thrill with some unnecessarily loud noises.
From the actors, Anil Kapoor stands out with a mature act. Boman Irani is another actor who impresses with a powerful act. The writing doesn't give Ajay Devgn much scope to showcase his acting skills. Most of the times, he just has to be on the phone in order to negotiate and give threats to the railway officials and the anti-terror squad. Zyed Khan's limited acting skills are seen here too while Sameera Reddy is average.
It is quite clear that a fine performer like Mohanlal opted to act in the film only due to his good relations with Priyadarshan. Not only is he a mismatch in the role of a London cop, but also his character is ill-defined. A scene where he clings on to a moving train is one of the various funny (pun intended) sequences. Kangana Ranaut disappoints too. The way she screams in her typical harsh voice in the pre-climax makes you wince!
Overall, Tezz falls flat due to a large number of minuses and hardly any plusses. At the box-office, it will have the same fate as Ajay-Priyadarshan's first film together Aakrosh (2010), although the latter was a fine product.