Direction: Dibakar Banerjee
Production: PVR Pictures
Cast: Emran Hashmi, Abhay Deol, Prosenjit Chatterjee, Kalki Koechlin, Farookh Sheikh, Pitobash,
Writer(s): Vassilis Vassilikos (story), Urmi Juvekar and Dibakar Banerjee (screenplay)
Music: Vishal-Shekhar
Rating: * * * ½
Plot: Leader of a political party (Kiran Karmarkar) supports the project of International Business Park as he, along with his party, considers it as a sign of development of an Indian city. However, social activist Dr. Ahmedi (Prosenjit Chatterjee) is against the project as it will make the poor further helpless.
One day after giving a speech, Admedi gets smashed by a moving tempo. Was this a method used by the political party to deal with Ahmedi? His student and admirer Shalini Sahay (Kalki Koechlin) certainly thinks so. Jogi Parmar (Emran Hashmi), a video shooter drags himself in the issue as he has a vital proof in the form of a video footage. The whole case is handled by IAS officer T A Krishnan (Abhay Deol), who has to play his cards carefully.
Review: Dibakar Banerjee is just four films old but in all of his films he has tried subjects that are utterly different from each other and has also managed to succeed each time. But all of his celluloid efforts have one big similarity: they follow an unconventional method of storytelling making them examples of new age cinema. His latest offering Shanghai is no different, both in execution and result, although the product suits more to the classes.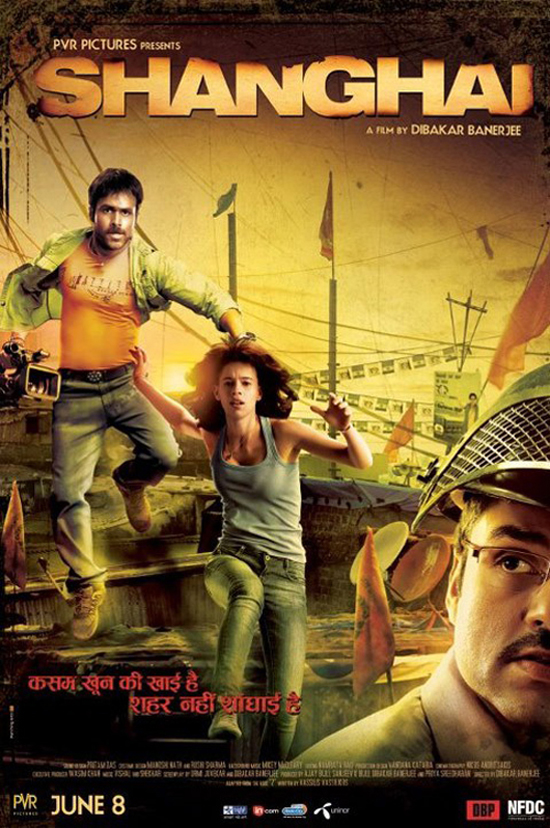 Being an unconventional film, the story doesn't unfold in the way you normally see in Bollywood movies. Banerjee uses a unique style of jumping from one sub-plot and set of characters to the other and combining them nicely when the story takes a major turn in the first half. Even the conversation between the characters is short and out of real life but at the same time very interesting and witty. Example – Jogi, while trying to identify a dead body on a dark road, tells the cop, "Kuchh dikh nahin raha. Light nahin hai." The cop responds, "Jahan light thi wahan marna tha isko."
The method works well in the second half too. But after a point of time, one realizes there was a scope for few dramatic moments considering the powerful story with good twists. Even the climax would have looked more appealing if the visual medium was used more to conclude instead of making the audience read the text on screen. However, that doesn't take away Banerjee's efforts in creating a new age political thriller with maturity.
Nikos Andritsakis' contribution as a cinematographer is also a major plus point. He has also used a hand held camera in some scenes which adds to the realism. The background score (Michael McCarthy) is purposely not used much. Nevertheless, whenever it is used, it creates a terrific impact, especially in one of the scenes in the finale. Vishal-Shekar's tracks suit the film aptly. 'Bharat Mata Ki Jai' is one song that stands out. The rest are used intelligently in the background.
With every film, Emran Hashmi keeps proving he is one of the finest young actors in Bollywood. He does the same here while playing an unusual character. He creates the right mannerisms, gestures and dialogue styles that were needed. Abhay Deol, playing a sophisticated IAS officer impresses too. He does very well in underplaying his character. Most importantly, he scores well in speaking Hindi with a south Indian accent.
Prosenjit Chatterjee is considered a superstar in Bengal. He displays his terrific acting prowess in a small but substantial role. Kalki Koechlin does well playing an American returned, although she sounds awkward few times. Veteran actor Farooq Sheikh provides a mature act. He should do more films. Pitobash does the same what he did in Shor In The City but one has to appreciate his comic skills. Supriya Pathak and Kiran Karmarkar shine in cameos while Anant Jog plays his part well.
Overall, Shanghai is a well made modern political thriller which had a chance of being superlative. At the box-office, the film has a chance at the metros. It will have a tough time at single-screens and small centers. In the second week, it will have to deal with Ferrari Ki Sawari.