Direction: Sujay Dahake
Production: The Great Maratha Entertainment, Nishad Audio Visuals, Naulakha Arts
Cast: Anshuman Joshi, Ketaki Mategaonkar, Dilip Prabhavalkar, Nandu Madhav, Santosh Juvekar, Jitendra Joshi, Devki Daftardar, Ashwini Giri, Amruta Khanvilkar
Music: Aloknanda Dasgupta
Rating: * * * ½
(For more reviews, news and information on Marathi cinema, click HERE) (To join us on Facebook, click HERE)
Plot: Based on the novel of the same name by Milind Bokil, the film is set in the 1970s in the interiors of Maharashtra. Ninth standard student Mukund Manohar Joshi (Anshuman Joshi) has a crush on his beautiful classmate Shirodkar (Ketaki Mategaonkar). There are also a bunch of interesting characters in the form of teachers, a principal and Joshi's parents.
One day, Joshi garners courage and proposes to Shirodkar. Will she accept his proposal? Is there a future for their love story? Backdrop of the Emergency period is also used in the narrative.
Review: No matter how big you grow, school memories will always be etched in your memory forever. Time and again, you feel like revisiting your old school days. Sujay Dahake's Shala (School) will help you revisit those days for almost two hours by experiencing the joys and sorrows of a bunch of kids studying in the ninth standard.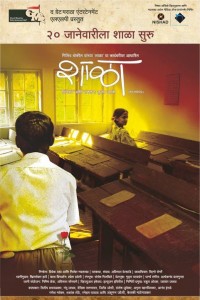 Avinash Deshpande (screenplay) deliberately uses not-so-fast narration due to the nature of the subject. This was necessary so as to involve the audience into the proceedings as the kids go about their daily routine in the school. But despite the kind of pace used, proper care is been taken to keep boredom at bay with the help of some humorous incidents and conversations.
Apart from Dahake's handling of the classroom scenes, it is Diego Romero's artistic camerawork and Divya Mehta's realistic sets (of the 70s) that make you feel as if you have enrolled once again in a school. This is more evident when you feel for the students in the climax. The above trio's contribution in the village (non-classroom) scenes makes sure you also experience a visual treat. Aloknanda Dasgupta's background music provides further soothe to the proceedings.
But the events in a few portions of the second half might test the patience of those who are looking for commercial entertainment.
Despite the presence of some experienced actors, it was necessary for Anshuman Joshi and Ketaki Mategaonkar to give top-notch performances as they are the central characters. Both kids do exactly that while making us feel as if they are seasoned actors. The rest of the kids, especially the one who plays Mhatre, are lovable too.
Experienced actors like Dilip Prabhavalkar, Nandu Madhav, Santosh Juvekar, Jitendra Joshi, Devki Daftardar and Ashwini Giri give mature acts in supporting roles. Although Amruta Khanvilkar does well, she should have been given more lines.
Overall, Shala is as gentle as a smooth flowing river. Those interested in meaningful, off-beat genre should attend this class. At the box-office, the word-of-mouth will help the movie enjoy good collections.