Direction: Satish Motling
Production: Poonam Shende for Saarthi Entertainment
Cast: Santosh Juvekar, Sushant Shelar, Rajesh Shringarpure, Jitendra Joshi, Usha Nadkarni, Sameer Dharmadhikari, Yogini Chouk, Surekha Kudachi, Minal Ghorpade, Megha Dhade
Music: Abhijeet Rameshrao Kawthalkar
Rating: * * *
Plot: Pakya, Babya and Raja (who are later played by Santosh Juvekar, Jitendra Joshi and Sushant Shelar) are forced to kill a gangster during their childhood. There are sent to the remand home where they join hands with the notorious Rony (later played by Rajesh Shringarpure).
As the stigma of being murderers is attached to their name, the four friends neither find a job nor self-respect from the people around them. Left with no other choice, they are forced to join underworld don Bala's gang. In the meantime, the commissioner of police appoints officer Vikram (Sameer Dharmadhikari) the task of cleansing Mumbai from the filth of underworld.
Review: Underworld of Mumbai is not a novel concept in Indian cinema. So, when a filmmaker decides to try his hand in the genre, it is vital that he provides the audience with an interesting and a memorable tale. Director Satish Motling touches the genre in his debut flick Matter. Although the end result might not be superlative, the film surely turns out to be a one-time watch due to the realism executed in terms of characters, dialogues, story and situations.
An exhibition of good writing (Atmaram Dharne) is seen at the start as no time is wasted in bringing the twist (murder) in the lives of three children. Things further brighten up when the four friends grow up. Their conversation and the regular addition of realistic yet rib-tickling humour scores well. The further unfolding of the events and an interesting twist at interval point sums up a good first half.
The same, however, cannot be said for the post-interval portion. The main reason for this is that too much of importance is given to Pakya, Babya and Rony's love stories. In this, Babya's marriage incident appears stretched. An unusual incident that deserves mention is that three prominent characters are not shown grieving when their loved one passes away. Strange! Fortunately, the twists and the events that follow, including the climax, ensure satisfaction.
(Review continued after picture.)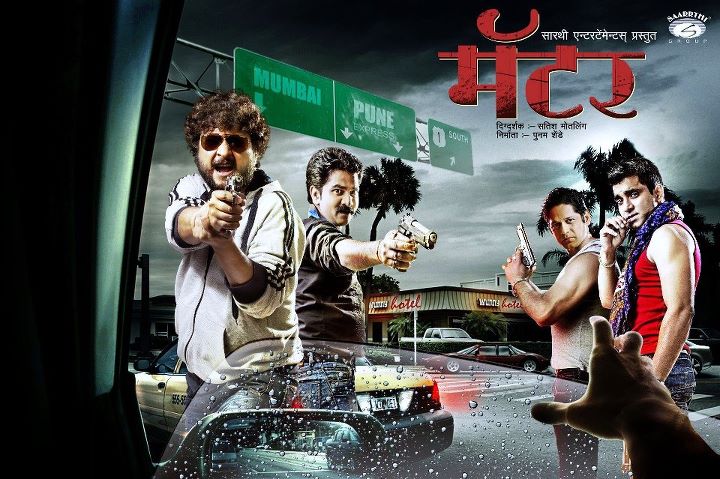 In the end, one has to say that the flick indirectly gives an important message that there cannot be any justification for crime, no matter how valid a reason you have.
Although there isn't much scope for music in underworld films, Abhijeet Rameshrao Kawthalkar composed songs suit the flick well except the item number 'Range Jawani'. Tracks 'Bhenchik' and 'Bada Bada Ban Ne Ka' are hummable, peppy numbers.
Talking about the technical department, the cinematography (Motling), editing and background score deserve immense praise for presenting a sleek and stylish flick in the offering.
Performances are another plus point. Santosh Juvekar displays his talent yet again as a hot tempered bhai. Sushant Shelar and Jitendra Joshi provide well-executed performances while Rajesh Shringarpure is likable. Usha Nadkarni is terrific as a ruthless politician.
Sameer Dharmadhikari is apt in the role of a cop. He gets to prove his mettle more in the second half. The actor playing Bala is average. The character needed to be more convincing. Surekha Kudachi shows maturity. Yogini Chouk provides good support while Minal Ghorpade and Megha Dhade are just okay.
Overall, the plus points of Matter make sure it's worth a dekko, especially for those who enjoy such crime thrillers. It has a chance of making a mark at the box-office.
Pages
Categories
Blogroll
Archive
Meta