Director: Pooja Bhatt
Producers: Clockwork Films and Fisheye Network
Writers: Mahesh Bhatt and Shagufta Rafique
Cast: Sunny Leone, Randeep Hooda, Arunoday Singh, Arif Zakaria
Music: Arko Pravo Mukherjee, Mithoon, Rushk and Abdul Baasith Saeed
Rating: * *
Plot: Secret Indian Intelligence officer Ayaan (Arunoday Singh) approaches pornstar Izna (Sunny Leone) for a secret mission. Izna's mission is to act as a honeytrap for a dreaded terrorist Kabir (Randeep Hooda) in order to destroy him and his terror outfit. Things become complicated due to the fact that Izna and Kabir are ex-lovers.
Review: Jism 2 is in news ever since the Bhatts decided to cast pornstar Sunny Leone in the movie, which was touted to be the boldest film from Bollywood. But thanks to our Censor Board and the ineffective writing, the film fails to please both section of audiences - the ones expecting to see a sensible, intense thriller and the ones interested due to 'other' reasons.
The unconvincing factor hovers around for almost the entire film. Ayaan's meeting with Izna, her casual commitment to a hugely dangerous mission and, later, the consequences of the mission fail to involve the audience due to the absence of an intelligent script. In the end, even the final culmination, which is very similar to Gangster, doesn't appear convincing. Ironically, scenes which provide unintentional laughs act as a saving grace.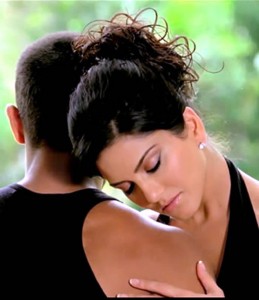 The plus points include few creatively shot scenes, especially in the first half. The thrill at the end of the first half is by far the best moment of the movie. Some of the dialogues are very impressive and witty, although on some occasions they appear silly. But it is the music which turns out to be the biggest plus points. It is a rarity these days to have an album full of impressive songs.
The film scores well in the technical departments too. Nigam Bomzan shows his brilliance in his creative camerawork. The makers should be lauded for selecting such unexplored yet beautiful locations in Sri Lanka.
Plenty of eyebrows were raised when Sunny Leone was cast as the main lead. The decision, however, turns out to be well made one as the debutant chips in with the right emotions and expressions. One can't comment on her dialogue delivery as her voice is dubbed. Randeep Hooda once again shines with a mature act in the role of a crazy assassin. The actor is improving film after film.
Arunoday Singh is mostly average as he struggles during intensely emotional scenes. Arif Zakaria once again proves why he is one of the best character artists. Sumeet Nijhavan is average.
Overall, Jism 2 suffers due to faulty writing. At the box office, the film has a chance of clicking in the metros. It will be largely helped by the section of audience queuing up to see Sunny Leone.
Pages
Categories
Blogroll
Archive
Meta