Direction: Amit Abhyankar
Production: Golden Dreams Production House
Cast: Nandu Madhav, Chinmay Sant, Santosh Juvekar, Madhura Velankar Satam, Asmita Joglekar
Music: Dr Saleel Kulkarni
Rating: * * * ½
Plot: School teacher Ramchandra Sontakke (Nandu Madhav) is fed-up of teaching in a school in a tribal area of Maharashtra called Mhalunge. He longs to get a transfer to a school with more civilized students. In order to impress his senior, who will be visiting the school on Independence Day, he organizes a flag hoisting ceremony and a patriotic play to prove his mettle.
His student Katu (Chinmay Sant) is eager to sing the National Anthem on Independence Day. For this, he needs to be dressed up in new white clothes. However, his parents Dagadu (Santosh Juvekar) and his wife (Madhura Velankar Satam) can never afford it as they are struggling for even the basic necessities of life (food, clothing and shelter). Will Katu be heartbroken?
Review: Tribals are looked so down upon in our society that they are almost considered from different species. Naturally, their children are regarded the same. However, given a chance, these children can match up to their civilized counterparts and develop love for the nation if they are given proper education. This bold message is sensibly delivered in Amit Abhyankar's Jana Gana Mana, a film which will change many a perception towards the so-called backward classes.
Sameer Joshi's impressive writing is seen right in the initial moments as the tribal life is presented realistically with the inclusion of simple but rib-tickling humour. The fact that these children are not aware even of the name of our country will come as a shocker for most of us. A well-performed humorous scene follows when Madhav's character struggles to explain the name of our country and its history to the students.
But what takes the cake is the actor's one-act play performance at the interval portion where he narrates a historic incident in one take. Talking of one-take scenes, there's another one where Madhav, on a bicycle, tries to dodge bullock carts coming from opposite direction, which could have been dangerous. Looking at Madhav's overall performance, you can't help but applaud the actor's talent and dedication.
Apart from few dragging moments in the later part of second half, there isn't any flipside. Lastly, Chinmay Sant's act in the climax touches your heart. This also gives rise to a twist (not possible to reveal) which sends a positive message that every child has a right to education irrespective of his or her social status.
Rajesh Khale's camerawork and Dr Saleel Kulkarni's music suit the mood of the flick. Editing department should be praised too for the tight length (less than two hours).
Child actor Chinmay Sant adapts a tribal lifestyle with ease and delivers a top-notch performance. Santosh Juvekar and Madhura Velankar Satam are remarkable in challenging roles. Asmita Joglekar as Chinmay's sister does well too.
Overall, Jana Gana Mana deserves applause for presenting a serious issue in a light-hearted manner while retaining the sensibility of the subject. However, it won't have an easy run at the box-office since it is released with the Bollywood biggie Agneepath. Hence, it is highly in need of positive word-of-mouth.
After playing a wide range of characters in last three years or so, Santosh Juvekar has become one of the most sought after names in Marathi cinema currently. It is his quest of exploring different shades of his talent that has helped him reach this level.
The actor has continued this exploration in his upcoming flick Jana Gana Mana. In an exclusive chat, the Morya lads speaks about his movie and shares his views on Marathi cinema.
(For more news on Marathi cinema, click HERE) (To join us on Facebook, click HERE)
What is your movie Jana Gana Mana about? What is the context of the title with the movie?
As we all know, Jana Gana Mana is our national anthem which is sung proudly on Independence and Republic Days. In the film, my son wants to sing the national anthem in his school on Independence Day. However, only those with clean and white clothes get a chance to sing it. And we being tribals can't afford such clothes. So, my character vows to get such clothes for his son so that he can sing the National Anthem in his school.
Tell us about your character in the movie.
I play a carefree and lazy character who doesn't even shy away from stealing. But he goes through a transformation and sets a goal to fulfill his son's dream.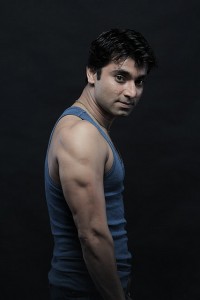 It is visible from the promos and posters that the actors were made to wear a very dark make-up. Was this really necessary?
Yes it was. We play tribals in the movie who live in dirty and unclean surroundings. So, one can't expect us to be clean and tidy. And my character in the movie is such that he doesn't take a bath for even 2-3 days (smiles).
What are your expectations from the movie?
We are surely expecting the film to succeed. It's a movie for the whole family and we all have worked hard for it. The story is moving. So, we want people to go to the theatres to watch it.
Nowadays, there are too many Marathi films releasing simultaneously. We can even see three films clashing on the same day. Don't you think this is a disadvantage?
This is definitely a disadvantage. This shouldn't happen. It is up to the producers to sit and decide and make sure there is a gap between each release. Till now, Marathi films were competing only against Bollywood. There shouldn't be a time when Marathi films start competing against each other.
Jana Gana Mana is directed by debutant Amit Abhyankar and produced by Sandeep Kadam and Sachin KAdam. Apart from Juvekar, it also stars Madhura Velankar Satam, Nandu Madhav, Chinmay Sant and Asmita Joglekar. The film is slated to release this Republic Day i.e January 26.
- Keyur Seta