As expected, the Government and our parliamentarians have betrayed us once again by passing a weak Lokpal in the on-going Winter Session of the Lok Sabha. Hence, the time has come for us to show once again that we won't take it lying down. We are ready to do what we did successfully in April and Augsut 2011- protest!
There will be a number of protest rallies all across India in the month of December before the massive protest from December 27 begins.
Here is the list of protest rallies all across India: -
1)      Kanpur: December 1, Thursday (Candle March)
Venue: Phool Baug, Near Gandhi Statue. Contact - 9580303575 , 9616002123
Time: 5pm
2)      Mumbai: December 3, Saturday
Venue : Mahajan Wadi, Opposite Voltas, Dr Ambedkar Road, Below Lalbaug Flyover,
Chinchpokli East, Mumbai.
Time: 5:30pm to 8:30pm
3)      Chandigarh: December 4, Sunday (Car and Bike Rally)
Venue: Sec 17/21 roundabout, Opposite Sec-17 Bus Stand, Chandigarh, India.
Time: 11am to 2pm
4)      Pune: December 11, Sunday (Full day Dharna)
Venue: Kamala Arcade, Opp. Balgandharva, J.M. Road, Pune.
Time: 10am to 10pm
5) Pune: December 11, Sunday - Freeze Mob to Support Anna Hazare's Fast
Venue: Outside Pune Railway Station at 1pm, at Swargate Bus Stand 3pm and at Shivajinagar Bus Stand at 5:pm.
6)      New Delhi : Anna Hazare's protest on December 11, Sunday
Venue: Jantar Mantar
Time: Full day
Let us show the government once again how wrong they are in underestimating the power of The Common Man!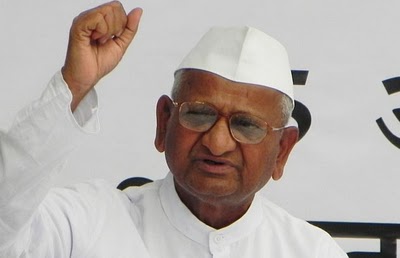 All my life I had only heard about the power of the Common Man but never really saw it. Apart from the numerous Hindi films, I was yet to see the Common Man strike in real since he has always been too busy with his own life, his personal problems.
But on Sunday August 21, 2011 in Mumbai everything changed. I was able to witness the awakening of the Common Man in real in support of Anna Hazare and the amendment of the Jan Lokpal Bill during the historic 'One Lakh March' rally.
The event was so called as the organizers had expected 1 lakh people to join in. The route was from Bandra West Railway station to Juhu Circle. They were urging Mumbaikars to join in to make sure the number reaches 1 lakh. However, the city-dwellers more than obliged them as over 2 lakh people hit the streets of Mumbai!
Before the protest rally commenced just before 4:30, the scenes outside Bandra Station looked similar to that of a cricket stadium with thousands of people gathered with India's tricolor, shouting slogans. But once the rally commenced and more and more people started joining in, the number went much ahead than any of the World Cup Finals!
In order to test the spirit of the protestors, heavy rains started pouring once we reached Khar. In no time, it turned into heavy showers. However, it had zero effect on the morale of the protestors who kept marching without a care in the world. I personally hate getting drenched in rains, more so because of the fear of falling ill but this event turned out to be an exception. Who cares?
There some touching scenes as well as a number of volunteers started distributing drinking water, biscuits and even soft drinks to the protestors for free! Their motto was clear: We don't want you to stop by any means! One of the best examples of Spirit Of Mumbai!
As we were about to reach Juhu Beach, the long distance started affecting my body. But looking at the josh and enthusiasm of over a lakh people, my mind and heart urged me to go ahead and they eventually overruled my body!
Then came the historic moment when the rally ended at Juhu Circle. After the very long walk (from 4:40pm to just before 8pm) lakhs of people gathered at the ending point. People were proud of themselves and why not? They became a part of history! Such a scene was never seen after India's independence! The place really became the next Tahrir Square!
I heard one of the protestors saying, "Me and my friend had been to Bandra to meet a client. After meeting the client, we got to know about the protest rally and decided to participate in it for 15 minutes. But we ended up waling the whole distance."
This was a huge message to the government as to what people really want. It's an open message saying – If you really feel India is a democratic country, you must listen to the voice of people who are not going to stop unless the Jan Lokpal Bill is passed. If it isn't passed till August 30, the movement will become even stronger and your mental state, worse!
For today, let's gather (dharna) outside the houses of all MPs and urge them to fulfill the demand of the Common Man.
Some more pictures from the rally: -