A filmmaker wants the sequel or the second part of his movie to be a notch higher than the first part in terms of overall satisfaction. It seems the Indiblogger think-tank follows the same mantra. If the 2011 Mumbai meet (at R K Studios) was very good, the 2012 meet yesterday at Taj Lands End was even better! Being a filmi keeda, I couldn't find another way of describing it.
Although I was truly happy to attend my second IndiBlogger meet, I was quite sure I would be the odd man out when I got to know that the event is called Nokia Apptasting. This means there would be discussions and demonstrations of different types of mobile applications or apps as they call it.
I used the term odd man out as I have never used any app in my life since I am using the very simple Nokia 3110 since four years. I want mobile phones only for calling and SMS-ing as I don't want any more tech addictions (I already have quite a few including SMSes, Gmail, Facebook, Twitter, etc). What will be further surprising for you is the fact that I have never used internet from mobile and don't wish to do so, at least in the near future. But since it was an IndiBlogger meet, my excitement levels were high! I was also glad my friend Celin will be attending her first IndiBlogger meet (I am partnering her in our food blog - mumbaigluttons.blogspot.in).
At my arrival, I was taken aback by the luxury oozing out from every little corner of Taj Lands End. It quickly reminded me of those huge budgeted Yash Chopra or Karan Johar films, minus people with expensive and heavy wedding attires (thankfully). When I reached the ballroom in the basement, I realized the place is too luxurious for a common man like me, although I was super-impressed by the peaceful ambience. But my eagerness was focused on only one thing – IndiBlogger meet!
The event also helped me meet my two of my friends Anuradha and Rahul after a long time. This was similar to the films of the 70s and 80s where estranged friends reunite in a mela (in this case, the Indiblogger meet).
The start of the event took all of us by surprise. It was very impressive to create an atmosphere of friendship by giving high fives, shaking hands and hugging each other. The hosts Vikas Khanna and Rajiv Makhni were up to the task. Their unusual chemistry with some witty humour gave way for some refreshing entertainment. They were very much like Amar and Prem of Andaz Apna Apna. The joke on Simran (who came on behalf of Nokia) is something that will tickle my funny bone whenever I recall it, especially his pose with Rajiv as Raj-Simran!
After a lot of fun and laughter during the initial period the Apptasting started. In my words – after a very impressive first part, the post-interval portion started. Surprisingly, I didn't feel out of place during this period. I was impressed with some of the apps, especially the one which helped Rajiv make a short film on Vikas along with two girls from the audience. Their silent fashion show with Charlie Chaplin music is worth watching again and again. The contest where the audience was asked to describe their dream app was also an interesting idea. I, along with others, was spellbound by the imagination of some.
The cutting of the huge cake celebrating five years of IndiBlogger, followed by a group picture and dinner proved to be a perfect ending to a memorable evening.
Now here's the twist in the climax – The Apptasting ensured that I might use some app in the future. Of course, it has to be the one which is useful for the common man. Hence, we can say IndiBlogger and Nokia have something more to be proud of. They managed to do something which a whole lot of my friends couldn't – to convince me in using apps! Oh wow! This was similar to the happy ending of Dilwale Dulhania Le Jayenge where Amrish Puri's character finally says, "Ja Simran Ja." No, I am not hinting at the one who represented Nokia.
More pictures from the event:
We always look forward to meet our friends or near and dear ones. But on October 15, 2011, I was super excited to meet… a big group of strangers. It was the yearly Indiblogger meet at Mumbai's R K Studios where bloggers from all over the city had assembled. The meet was organized by the food television show MasterChef India 2, which goes on air from October 22.
I use the word strangers since before the meet; I hadn't interacted with a single blogger from Indiblogger, although many of them regularly vote for my posts and vice versa.
As I entered the venue, I felt similar to what a child feels when he visits an amusement park for the first time. Although I was seated alone, I still felt entertained due to the occasion. I was in awe of the magnificent interiors of the sets.
One of the organizers then asked me to join a group of bloggers as he was disheartened to see me sitting alone. Few minutes of interaction with fellow bloggers was enough for me to realize that people around me aren't strangers at all!
(Article continued after the picture)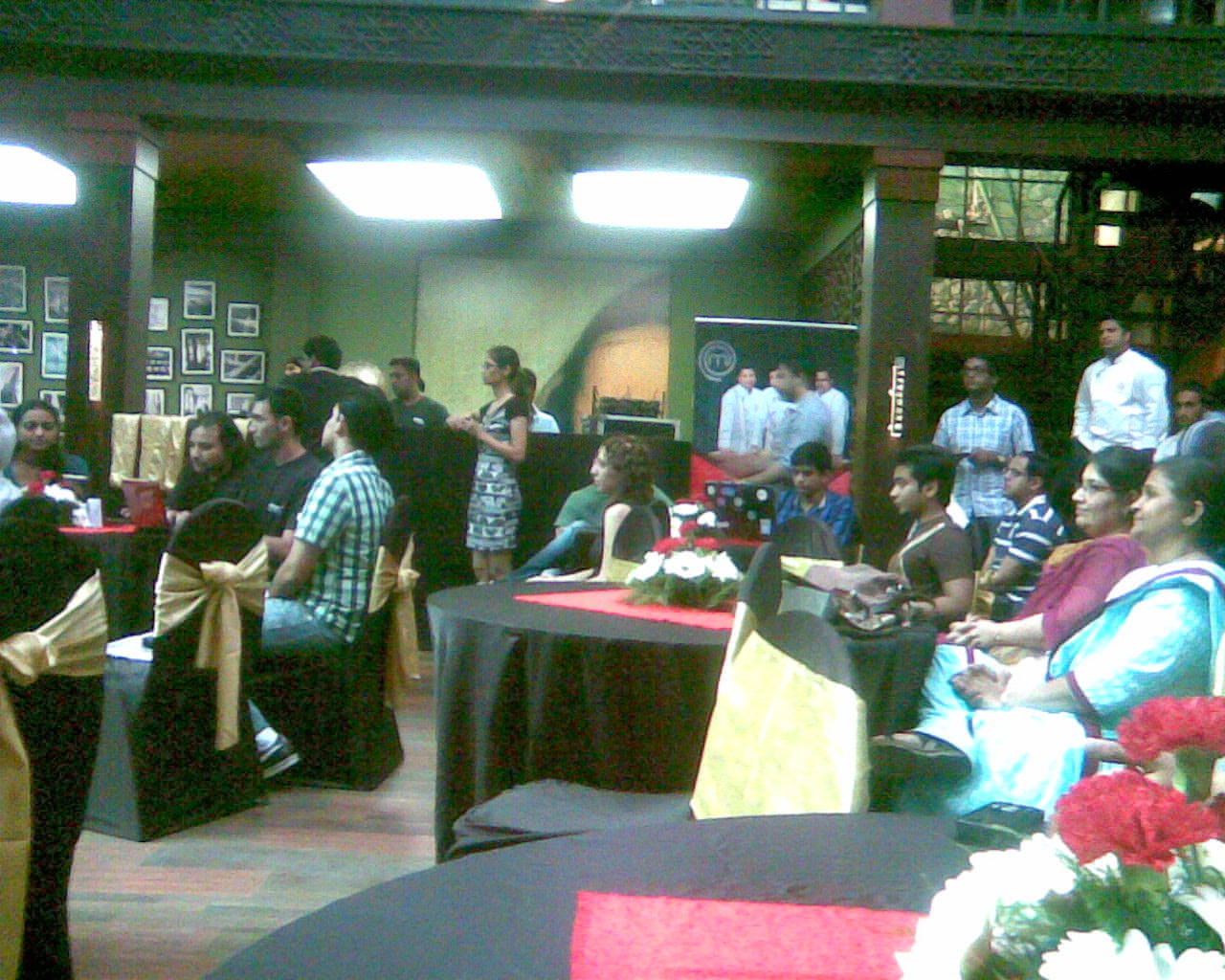 Soon, the event got under way. The host started distributing prizes (aprons) as wholeheartedly as throwing grams to pigeons (pun intended). This was followed by the introductory round where each one of us had to speak about themselves and their blog. This produced plenty of butterflies in my stomach as I am pathetic in public speaking. I just lack the confidence.
It was heartwarming to hear people speak about their blog and their reason for blogging. I suddenly started feeling bloggers are some special species which also includes me! Finally, my turn came and I somehow managed to speak. I tried to sound like a revolutionary when I stressed on the concept and the power of the Common Man (not sure whether it worked).
The three chefs and judges of MasterChef India 2 Kunal Kapoor, Ajay Chopra and Vikas Khanna took over to promote their show. It wasn't like those over- desperate attempts used like our filmstars to promote their movies. It was more like an interesting interaction about food which was appreciated by the audience as it touched their emotional chord. The cooking-related games added the perfect icing on the cake.
In the end, we were given a large banner where other bloggers can mention their names and blog URL and we can do the same on their banners. I was pleasantly surprised when two bloggers came to me asking for my blog link saying they were impressed by the concept of the Common Man. Wow! So my under-confident speech did work! Later on, few others asked me the same!
Judging by the memorable time people had at the occasion, I appeal to Indiblogger to organize at least three meets in the city every year. After all, as Indiblogger's tagline says - We Blog, Therefore we Are!
More pictures from the event: -