Direction: Sajid Khan
Production: Sajid Nadiadwala for Nadiadwala Grandson
Cast: Akshay Kumar, Asin, Rishi Kapoor, Randhir Kapoor, Mithun Chakraborty, John Abraham, Ritesh Deshmukh, Shreyas Talpade, Boman Irani, Jacqueline Fernandez, Shazahn Padamsee and Zarine Khan, Johnny Lever, Chunkey Pandey
Music: Sajid-Wajid
Rating: * * *
Plot: There is fierce animosity between the families of Chintu (Rishi Kapoor) and his illegitimate brother Daboo (Randhir Kapoor). Both challenge each other of finding the richest groom for their respective daughters Heena (Asin) and Bobby (Jacqueline Fernandez).
This gives rise to a number of unusual situations and mistaken identities involving a large bunch of characters like Sunny (Akshay Kumar), Max (John Abraham), Jolly (Riteish Deshmukh) Jai (Shreyas Talpade), J D (Mithun Chakraborty), Parul (Shazahn Padamsee), J Lo (Zarine Khan) and Aakhri Pasta (Chunky Pandey).
Review: It was evident from the promos of Housefull 2 that it has no scope for things like logic and reasoning. So, if you keep those two elements at bay, chances are you would enjoy the comic caper by Sajid Khan. Although it goes overboard on few occasions, it won't matter much if entertainment is the only thing that you are looking for.
Writers (Farhad-Sajid, Sajid Khan, Tushar Hiranandani and Sajid Nadiadwala) succeed in the daunting task of merging the sub-plots and mannerisms related to the large number of characters and at the same time continuously providing some rib-tickling moments. The foursome deserves praise since handling a complicated plot with such huge star cast can be a headache for anyone. The fact that they created every character different from the other also deserves mention.
(Review continued after picture.)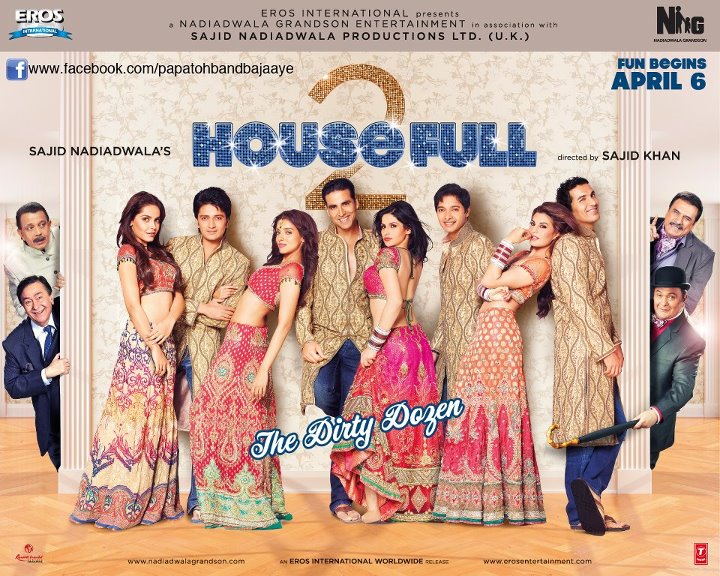 As the film isn't a flawless product, it has its share of flipsides too. Some incidents go a bit too overboard. Examples - The snake and alligator scene, Malaika Arora's track and a fight scene involving Vindu Dara Singh. Even the climax could have been plotted in a better way but since you have already had your share of humorous moments, it doesn't act as a dampener.
Director Sajid Khan's passion for entertaining cinema is noticeable in this flick. He has nicely repeated the humour from his successful television shows. An example of this is actor Ranjeet's 'Aye' effect which will surely stay etched in your memory for long.
Composer duo Sajid-Wajid has been successful in such commercial films. They don't disappoint here too. The track 'Papa Toh Band Bajaye' turns out to be the best of the lot. However, the use of other songs does make the proceedings lengthy. Technical departments like cinematography (Manoj Soni) and background score positive marks too.
It is extremely difficult to pick the best from such a mammoth star cast. Rishi Kapoor, Randhir Kapoor and Mithun Chakraborty prove why they are considered respected veterans. Although Akshay Kumar has played a comical character umpteen number of times, it's a pleasure to see him perform. The above mentioned 'Aye' effect suits him perfectly. Riteish Deshmukh and Shreyas Talpade do well too. John Abraham succeeds in showing his comic side.
From the girls, Asin manages well. Shazahn Padamsee is average while Jacqueline Fernandez and Zarine Khan need acting lessons. From the supporting cast, Johnny Lever is likable, Boman Irani is strictly average. Chunkey Pandey is once again outstanding as Aakhri Pasta.
Overall, Housefull 2 is for those who prefer non-stop entertainment without giving any trouble to their topmost organ. Others should stay miles away. The positive opening coupled with the type of product it is, will make sure it will earn big bucks at the box-office. Hence, one can say Sajid Khan has scored a hat-trick.
Star Value: Housefull 2 has a long list of actors including Akshay Kumar, Asin, Rishi Kapoor, Randhir Kapoor, Mithun Chakraborty, John Abraham, Boman Irani, Ritesh Deshmukh, Shreyas Talpade, Jacqueline Fernandez and Zarine Khan. It also has few other stars in special appearances. Naturally, one can say it has a very high star value.
Hype: The two crazy promos of Housefull 2 have created a good hype for the movie. The film is in the news due to its ensemble star cast, which has young faces as well as the veterans of Bollywood.
Music: The peppy fun number 'Papa Toh Band Bajaye' has been liked by the masses. Apart from the witty lyrics, 'Anarkali Disco Chali' has become popular as it is Malaika Arora's first item number after 'Munni Badnaam'. Hence, the music has also helped popularize the movie.
Prediction: Mostly due to the huge star cast, Housefull 2 will surely get a positive opening. Whether Sajid Khan will score a hattrick of successful films will depend on its initial response.
If it does receive thumbs up at the start, it will become the highest money-grosser of the year so far. However, if it doesn't, it will still earn good returns for the producers in the first week (especially first weekend). The big advantage that Housefull 2 has is that it caters to single-screen as well as multiplex audiences.
(Posted under the category BOLLYWOOD.)