Director: Anurag Kashyap
Producers: Viacom 18 Motion Pictures
Writers: Zeishan Quadri, Sachin Ladia and Anurag Kashyap
Cast: Nawazuddin Siddiqui, Huma Qureshi, Tigmanshu Dhulia, Zeishan Ahmed, Richa Chadda, Rajkumar Yadav, Pankaj Tripathi, Piyush Mishra, Reema Sen
Music: Sneha Khanwalkar
Rating: * * * *
Plot: At the end of the first part, Sultan Khan (Manoj Bajpayee) fails to avenge his father's death as he is killed by the same person who killed his father – political mafia Ramadhir Singh (Tigmanshu Dhulia). Gangs Of Wasseypur 2 is an account of how Sultan's son Faisal Khan (Nawazuddin Siddiqui) transforms into a dreaded don in order to avenge his grandfather and father's death.
Review: Gangs Of Wasseypur (first part) promised a bloody revenge saga but ended up going nowhere due to a weak script and narration in the second half. Director Anurag Kashyap and his team, however, fulfill the promise in Gangs Of Wasseypur 2 by presenting a thriller which is engaging, gripping, humorous and above all, entertaining. The film can also be a ticket to stardom for Nawazuddin Siddiqui, who gives a masterful act.
In terms of writing, GOW 2 is almost the opposite of the first part. Over here, interesting events unfold at a fast pace right from the start. The most vital event of Faisal Khan's transformation is very intelligently presented. The writers also make sure that Faisal's love track with Mohsina (Huma Qureshi) doesn't hamper the narration at all. It continues from their 'parmisan' scene from the first part and provides lots of laughter. Inclusion of characters Perpendicular and Definite (Zeishan Ahmed) along with their crazy antics add to the humor.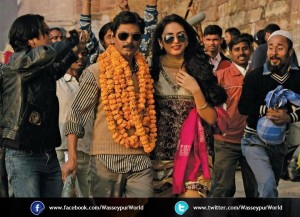 Although Faisal doesn't straightaway go about taking revenge, the above mentioned events coupled with some deadly twists make sure that the audience is highly engaged and entertained. A chase scene in the second half (which brings back memories of a similar scene from Kashyap's Black Friday) and a silly telephonic conversation about food items, vegetables and fruits between Faisal's gang members deserve special mention.
One might feel that the story is stretched a bit after the completion of the warring scene, which started the first part of the movie. Plus, Piyush Mishra's fast paced narration and too many twists in the end can confuse a section of viewers. However, these points don't act as a turn offs, especially after witnessing the brilliantly filmed climax. There is more blood and gore here but it certainly isn't as disturbing as it was in the first part.
Sneha Khanwalkar continues her great work from the first part. Every track complements the narration perfectly. 'Chhi Chha Ledar' of course is the best of the lot. 'Moora' with its unusual use of English words is funny and amusing. A number of other songs ('Electric Piya', 'Kala Re', 'Taar Bijli', etc) are impressive too. The creative cinematography (Rajeev Ravi) and powerful background score give a boost to the proceedings, just like they did in the first part.
Each and every actor rises to the occasion. Nawazuddin Siddiqui gets into the skin of his character with perfection and produces an earth-shattering act. He shows dedication and class while displaying every emotion. Courtesy this performance, it won't be an overstatement that he enters the list of India's most talented actors. Huma Qureshi, while displaying cuteness, gives a thoroughly mature act too. Tigmanshu Dhulia is once again brilliant as Ramadhir Singh. He should continue his acting stint further.
Debutant Zeishan Ahmed (who is also a co-writer of the movie) is outstanding as Definite. Aditya Kumar, another debutant who plays Perpendicular, provides an amusing act. He will become a known name in the days to come. Richa Chadda played a young housewife in the first part. She transforms herself as a middle aged woman here and gets into the skin of her character with perfection. Similar aging transformation is seen by Piyush Mishra, who speaks through his eyes and expressions brilliantly. Pankaj Tripathi and Rajkumar Yadav too are commendable. Reemma Sen, Anurita Jha, Vineet Singh, Jameel Khan, Yashpal Sharma and the rest of the supporting cast play their part well.
Overall, with Gangs Of Wasseypur 2, Anurag Kashyap proves himself as one of the most talented new age filmmakers of India. At the box office, the film will do good business in the metros. Its collections will surely be affected after Salman Khan's desperately awaietd Ek Tha Tiger releases after a week.