Direction: Farhan Akhtar
Production: Farhan Akhtar, Shah Rukh Khan, Ritesh Sidhwani
Cast: Shah Rukh Khan, Priyanka Chopra, Om Puri, Lara Dutta, Kunal Kapoor
Music: Shankar Ehsan Loy
Rating: * * ½
Plot: After becoming the king of drug mafia in Asia, Don (Shah Rukh Khan) now eyes Europe. But to achieve this, he will have to finish off the existing drug mafias of the continent, who are already eager to kill him. Hence, Don hatches a plan which will help him defeat his enemies and conquer Europe.
Don (2006), succeeded largely because of the novel interpretation of Farhan Akhtar of the original 1978 classic, path-breaking action and most importantly, a shocking twist in the end. So, when its sequel arrives, you surely expect at least a similar thrill ride if not more. But in the case of Don 2, that hardly happens due to some indigestible writing and events mostly in the second half.
The writers succeed in building up excitement in the initial moments as Don goes about his plan and later when he escapes prison. The sleek direction and editing, witty dialogues and action a la Hollywood keep you engrossed. Considering it's a commercial action film, you can even afford to forgive a few flaws during this part including the laughable way in which Hrithik Roshan is used as a guest actor. All is still fairly well when the major heist is planned at the end of the first half.
Things are fine even when the heist is carried out. But it's the all important portion after that where the writing falters. The twists and drama that follow are just too vague to digest especially the way Roma gets carried away. It's utterly dumb of a super cop! But what makes you raise your eyebrows is the way Don's human side is shown suddenly. It clearly doesn't go well with the cruel character.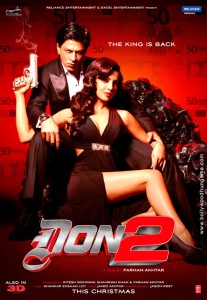 Few more of such indigestible events make sure you seldom care about the climax since it is anybody's guess. A twist at the end makes you wonder at the way Don easily managed to pull off such an over-complicated plan.
As a director, Farhan manages to handle such a Hollywood-like film. It is his own script that acts as a dampener.
Music composers Shankar Ehsan Loy are one of the few ones who can hold their heads high for the musical and background score. But as per the nature of the film, only the title song and 'Maya' could be used in the film. Similar applause is needed for Jason West's extraordinary cinematography.
The performance of the central character needs to be spot on when the whole film is based on it. Shah Rukh Khan does manage to put his better foot forward and give a commendable act through his charm. However, he looks too old to play such a character. Even his worn out body is visible regularly. Due to this, it also becomes difficult to believe when he bashes up baddies.
Boman Irani is effective although not at his best. A mature performer like Priyanka Chopra deserves a more performance-oriented role although she is good in action scenes. Lara Dutta manages to impress in a supporting role. Kunal Kapoor and Nawab Shah do well. Om Puri is average and so is Alyy Khan.
Overall, Don 2 had the potential of being a perfect sequel but is let down by the writing department. At the box-office, it will be another 2011 movie that will earn huge bucks but will fail to satisfy a good section of the audience.
Pages
Categories
Blogroll
Archive
Meta