Finally Anna Hazare has broken his fast due to his deteriorating health condition. With this, the Jail Bharo Andolan, which was scheduled to take place from December 30 to January 1, is delayed indefinitely. Although he has gone against his decision of fasting for three days, this is the right decision since his presence in vital for any future course of action.
But the big issue which is in everyone's minds is the low turnout at Mumbai's MMRDA grounds. This was surprising considering the increase in the number of members in various Anna Hazare and India Against Corruption (IAC) groups and fan pages in Facebook and Twitter. According to me, the reason for the low turnout could be: -
Location: MMRDA ground is too far away from the station. It is also not accessible via BEST buses from every corner of the city unlike Azad Maidan.
Working day: It is very difficult for Mumbaikars to take leave from work during weekdays to attend the event. Even if they are willing to join after work, the location makes it difficult for them after a tiring and hectic day.
Having said all this, I show no bones in saying that I am highly disappointed by the way Mumbaikars have responded to the fast.
I have been reading huge number of comments in favour of Hazare in Facebook, Twitter and under various news articles. Even a good number of friends, family and relatives have been supporting him. So, why the same number didn't reflect on MMRDA? I hope it's the above mentioned two reasons that kept large number of Mumbaikars away. If that is not the case, such major events shouldn't take place in Mumbai again!
But as Anna said, the battle will continue. I don't care if large number of Mumbaikars don't respond. I am fully committed to the cause. And why shouldn't I all since the government is hell bent in presenting a toothless Lokpal Bill? Their intentions are crystal clear - to help those who wish to indulge in corruption. On the other hand, Anna's dream is to bring a Bill which will help curb corruption. So, of course, I am with the one with good and noble intentions.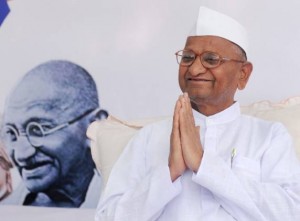 We always feel a sense of satisfaction when we consume food. But on August 28, 2011, the whole of India felt satisfied to see a someone else consume food. There was an atmosphere of relief and celebrations across India as the great Anna Hazare broke his fast after 13 long, painstaking days.
However, we should not forget those numerous souls who have been fasting with Anna. Big salute to them along with a prayer.
But just as Anna said, we must not forget that the main battle is yet to be won. We need to carry on the flame of revolution to even higher levels if we really want to see the change happening. Hazare also said he will continue his fight against corruption and so should we. Although its celebration time but we should also remember that the war is yet to be won!
What deserves special mention is the fact that all this was achieved without resorting to slightest of violence. India set a great example to the world that revolutions can be brought even by non-violent methods.
The man has shown us the path; let us walk on it with the same vengeance!
Let us watch the historic moment when Anna broke his fast: -
After a lot of speculation amongst the public of India and a lot of (pointless) discussions within the government, finally the UPA has decided to present Anna Hazare and Civil Society's Jan Lokpal Bill on Friday August 26, 2011.
Hazare's crores of supporters have termed this as a victory for the Gandhian for his painful efforts. Honestly, even I am happy for it looking at the way the common man of India has supported Hazare's movement. Be it battling the work schedule or the heavy rains, people's contribution has been the backbone in making the movement historic.
However, we should all make sure we don't get complacent by thinking that the war is over. Even during Hazare's April fast, the government had promised to take the Jan Lokpal Bill seriously but, like many politicians, it just made a U-Turn.
Classic example of a Congress U-Turn is Manish Tewari. After lambasting Hazare and even accusing him of corruption, he takes back his statement today and says he has immense respect for the 74-year old. Tewari feels the awakened citizens of India will get amused by the worst joke of the century. Due to this and numerous other examples, it is clear that the government is as trustful as a rattlesnake. So, I personally won't like to consider this as a victory.
Therefore, it is vital that we keep the protest alive with the same zest. Let us throng the roads in the same large numbers chanting the same slogans. Let the government know that what the common man wants is the ultimate victory in the form of the amendment of the Jan Lokpal Bill. The war is far from over!