Since recent years, Marathi filmmakers have started making films on subjects which were never touched before. One filmmaker who has also tried to do that is Samit Kakkad in Aayna Ka Bayna, a film entirely based on different forms of western dance. The film stars well-renowned Marathi actor Sachin Khedekar along with Amruta Khanvilkar and Raqesh Vashisht.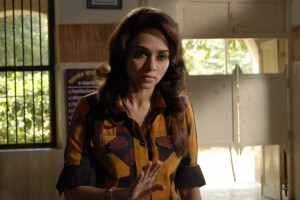 The makers have claimed that this is the first Marathi film to be based purely on western dance. Director Kakkad, whose last flick being Huppa Huyaa, further explains this by saying, "Aayna Ka Bayna is all about dreaming with your feet and winning."
As dance is an important ingredient of the story, the makers have tried to make sure that no stone is left unturned when it comes to the quality of dance. They have roped in dancers from Rohan N Group. The group has managed to impress viewers with their moves in dance reality shows like Boogie Woogie and Chak Dhoom Dhoom.
And if there is dance, there has to be music. For this, composers Ajit Parab and Sameer Mhatre are being signed. There are also action sequences imbibed in the script which are handled by Javed-Aezaz.
Now, only the release of the movie will determine whether the makers will 'dance' all the way to the bank as well as audiences' hearts!