Direction: Samit Kakkad
Production: Manju Paras Porwal, Amar kakkad and Pushpa Kakkad
Writers: Story - Raju Khuste, Suchita Sawant, Screenplay - Samit Kakkad, Dialogues - Bhalchandra Jha, Pradeep Rane, Hemant Edlabadkar and Sachin Darekar
Cast: Sachin Khedekar, Amruta Khanvilkar, Raqesh Vashisht, Ganesh Yadav, Siddhesh Pai, Amit Rokade, Pravin Nair, Rahul Kulkarni, Anand Chavan, Dinesh Kamble, Akhilesh Vishwakarma, Nikhil Rajemahadik, Sanket Farad
Music: Ajit-Sameer
Genre: Drama
Rating: * * * *
Plot: Warden of a children's remand home Harshawardhan Sathe (Sachin Khedekar) is a firm believer in the use of the stick in order to control the juvenile criminals over there. Naturally, his name ignites fear and hatred among all. But with the entry of the counselor Shivani (Amruta Khanvilkar), the young inmates find a new meaning to their lives.
Apart from showering the children with love and care, Shivani uses the dance therapy to counsel them. As the adolescents start mastering the art of dance, they develop a sense of fulfilling their dreams. But Sathe is hell bent to transform their dreams into nightmares!
(For more reviews, news and information on Marathi cinema, click HERE) (To 'like' us on Facebook, click HERE)
Review: If children or adolescents are forced to indulge in some sort of crime, they should be taken care of to make sure they become law abiding citizens in the future. Treating them like hardcore criminal shouldn't be an option at all.  Debutant director Samit Kakkad gives this strong message successfully in Aayna Ka Bayna. But what makes the message more appealing is the fact that it is put across while presenting an applaud-worthy dance extravaganza. The end result is an inspiring humane saga that touches your heart.
The writers deserve applause as it would have been difficult at the start to define two starkly opposite characters (Sathe and Shivani) and portray the life at the remand home and, at the same time, take the story forward. The flashback portions of few inmates are nicely included by keeping it brief and to the point. Even the emotional or painful moments, thankfully, don't appear depressing.
When dance plays an important part in a film, there is a danger of the makers going overboard by including too many dance sequences. Fortunately, that doesn't appear here. The dance scenarios and songs constitute an important part of the narration. Of course, there is a long dance sequence at the end but by this time; you develop a liking for the characters thereby making you root for them.
Although there aren't big flaws, the film does become predictable later on. Also, a funny dance scene involving one of the main characters (won't reveal the name) should have been shortened.
Sanjay Jadhav's camerawork perfectly captures the dance as well as the action sequences. Like his previous films, he continues his good work. Without such brilliant dance sequences, the film wouldn't have created such an impact. For this, choreographers Umesh Jadhav and Rohan Rokade deserve thumbs up. Ajit-Sameer's peppy music suits the genre of the film. From the songs, the title track stands out. The editing and background score are adequate too.
Sachin Khedekar shows his brilliance by perfectly getting into the skin of the character of a ruthless warden. He generates the fear and hatred which was vital. Amruta Khanvilkar gives a strong performance. She manages to speak through expressions and is perfect during the dance sequences. However, her dancing skills should have been exploited more.
Ganesh Yadav is brilliant as the cop. The scene where he interacts with the media will have audiences in splits. Decent support is provided by Raqesh Vashisht. Lastly, the nine young debutants - Siddhesh Pai, Amit Rokade, Pravin Nair, Rahul Kulkarni, Anand Chavan, Dinesh Kamble, Akhilesh Vishwakarma, Nikhil Rajemahadik and Sanket Farad – deserve high applause for their super dancing skills and as well as acting. Some of their moves are overwhelming! Santosh Juvekar is likable in a cameo.
Overall, Aayna Ka Bayna gives a strong message through the art of dance without going overboard. Since it is released with Talaash starring the powerful Aamir Khan, it is in need of some prolific word-of-mouth.
Since recent years, Marathi filmmakers have started making films on subjects which were never touched before. One filmmaker who has also tried to do that is Samit Kakkad in Aayna Ka Bayna, a film entirely based on different forms of western dance. The film stars well-renowned Marathi actor Sachin Khedekar along with Amruta Khanvilkar and Raqesh Vashisht.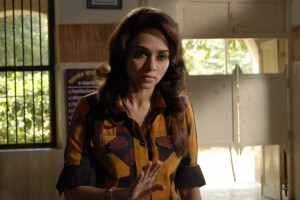 The makers have claimed that this is the first Marathi film to be based purely on western dance. Director Kakkad, whose last flick being Huppa Huyaa, further explains this by saying, "Aayna Ka Bayna is all about dreaming with your feet and winning."
As dance is an important ingredient of the story, the makers have tried to make sure that no stone is left unturned when it comes to the quality of dance. They have roped in dancers from Rohan N Group. The group has managed to impress viewers with their moves in dance reality shows like Boogie Woogie and Chak Dhoom Dhoom.
And if there is dance, there has to be music. For this, composers Ajit Parab and Sameer Mhatre are being signed. There are also action sequences imbibed in the script which are handled by Javed-Aezaz.
Now, only the release of the movie will determine whether the makers will 'dance' all the way to the bank as well as audiences' hearts!