Director: Ankush Chaudhary
Producer: Underground Films Private Ltd, Premnath Rajagopalan and Nikhil Saini

Cast: Ankush Chaudhary, Bharat Jadhav, Aniket Vishwasrao, Sai Tamhankar, Kranti Redkar, Manava Naik, Sai Lokur, Pandrinath Kamble
Music: Nakash-Sargam
Rating: * * * ½
Plot: No Entry Pudhe Dhoka Aahey is the official remake of the superhit Bollywood movie No Entry. The film explores the lives of three friends – Krishna (Bharat Jadhav), Prem (Ankush Chaudhary) and Sunny (Aniket Vishwasrao). Krishna and Prem are married while Sunny is about to marry her girlfriend Sanjana (Manava Naik). Although Krishna is a faithful husband, his wife Kajal (Kranti Redkar) always suspects him of adultery. On the contrary, Prem is a playboy who enters the No Entry zone frequently. But despite that, he receives blind trust from his wife Pooja (Sai Lokur).
Things turn topsy-turvy when Prem convinces Krishna to enter the No Entry zone. Hence, the seductive Bobby (Sai Tamhankar) enters the scene which ensures chaos, confusion and craziness.
(For more reviews, information and trailers of Marathi movies, click HERE.)
Review: While remaking a successful film, a filmmaker can either make an exact replica of the original or create something new from the original plot. Ankush Chaudhary follows the first method in No Entry Pudhe Dhoka Aahey, the Marathi remake of the Hindi blockbuster No Entry (2005). Naturally, like the Bollywood film, Chaudhary's Marathi version too succeeds in being a crazy laugh riot. Chances are you will enjoy NEPDA even more if you haven't seen the original, provided you are ready to rest the topmost organ of your body.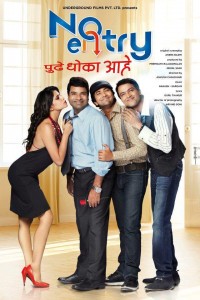 Like the original, the events are presented with a rapid pace with rib tickling moments taking place regularly. The humorous lines are just translated from Hindi to Marathi, except some improvisations here and there which work well. Giving a Marathi touch to the humour makes it more appealing on some occasions. The same pace, along with the humour, is maintained in the second half till the climax. It was a good idea to shelve a scene (in the first half) featuring Sunny and a song (in the second half) from the original.
There are flipsides too although small ones. The scene where Bobby comes face-to-face with Kajal for the first time should have been presented in a more impactful manner. The much hyped bikini scene featuring Sai is shorter than what is seen in the promos. But more importantly, it's just forced in!
It will be interesting to see whether a large section of the audience will be excited for this one. This is because the Marathi audience must have seen the original No Entry since the film did very good business in Maharashtra and is been shown on television plenty of times since last few years.
Nakash- Sargam composed songs suit the situations well. 'Pudhe Dhoka Aahe' and 'Badnaam' are the tracks that stand out. Technical departments like cinematography (Arvind Soni), background score and editing are apt.
Bharat Jadhav shows his acting proves in the role of Kishan. He depicts tragic humour, helplessness and confusion with ease. Ankush Chaudhary shows a fine act as he moulds himself as the playboy husband. Aniket Vishwasrao is good too although he appears uncomfortable on few occasions. Sai Tamhankar fits the shoes of a seductress with perfection. She is apt for the role.
While playing a suspecting wife, Kranti Redkar enacts her part well. Manava Naik and Sai Lokur are not bad either. Pandrinath Kamble does well to show his funny side.
Overall, No Entry Pudhe Dhoka Aahey is an entertaining saga all the way. Since it has mass appeal, it is expected to do well at the box-office. But, as mentioned earlier, it will be interesting to see if it does.