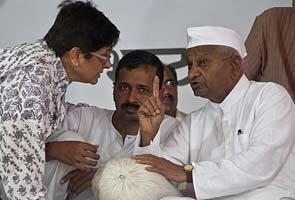 I have always wholeheartedly supported Anna Hazare's fight against corruption and voluntarily taken part in almost every agitation of his group in Mumbai. Reports and pictures of all major rallies are reported in this blog. However, I have not posted anything about Anna and his team's decision to enter electoral politics. All these days, I was hoping to get convinced by this decision. Unfortunately, as that hasn't happened, I think it is time to break my silence and declare – I am against their move of forming a political party! But I would like to make myself clear that I am only against their move and not against them. My support for Anna remains intact.
The manner of announcing the decision was more shocking than the decision itself, not only for me but for a large number of Anna supporters. I would like to explain myself through the following points –
-- Ever since the movement started, the government accused team Anna of having a political agenda, which was rubbished off by the former again and again. Mayank Gandhi (head of Mumbai IAC) too rubbished off such accusations in almost every IAC rally in the city.
-- Team Anna went on an indefinite fast from July 25, 2012 to compel the government to take action against the 15 tainted ministers and pass the Jan Lokpal Bill. They said innumerable times that they will end the fast protest only after government takes some action.
-- On July 27, 2012, Anna said he will not form a political party. Read here.
-- On Sunday July 29, 2012, Mayank Gandhi, in Azad Maidan, once again announced that entering politics is not an option for us (team Anna). To stress his point, he gave this example – He used to consider Lalu Prasad Yadav as his hero during Jayaprakash Narayan's campaign in the 1970s. However, we all know Lalu's antics after he entered politics.
-- On August 1, 2012, Delhi police asked team Anna to get admitted to hospital. This meant that the government was starting to get worried and the agitation was gaining momentum. Even on this day, Kejriwal announced they will end the protest only after getting results. But in Mumbai, Mayanji suddenly put forth the option of team Anna joining politics, which was accepted by a large number of people present at Azad Maidan. It was decided that the option of entering politics will be put forth in front of the core committee.
-- On the afternoon of August 2, 2012, team Anna suddenly announces that it will end fast and instead enter electoral politics!!! Less than 24 hours ago, they were hell bent in continuing the agitation until they get the desired results. So what exactly happened in those hours that forced them to take a 360 degree turn? More importantly, why was the option of entering politics considered by Mayankji when just 2 days ago (July 29) we were told we would never enter politics! What happened in those two days?
I read Arvind Kejriwal's letter, which explains the reason for taking the decision, with great anticipation but even that failed to convince me. (Read it here.) The letter says they were considering about entering politics since last few days before announcing, as per the demands put forth by a majority of supporters. If this was the case, why we never heard about it during those few days? Why they didn't have any discussions and debates for some days before taking such a humongous decision? Lastly, why did team Anna, on August 1 (a day before announcing the decision) stress on the fact that they will continue the protest until the demands are met?
But leaving all this aside, I think people shouldn't expect much from the party in the 2014 elections. Considering the large number of people unaware about Anna's movement, mostly from the interiors of India, overpowering the current government looks like a remote possibility. Having said that, I would be delighted if Anna's party achieves great success in 2014. As my support for him is firm, it's needless to say that I will surely vote for his party in the coming elections.